College of Visual and Performing Arts
JMU Music Students Take Top Honors at NATS National Student Auditions
---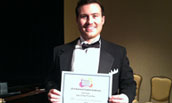 By Jen Kulju (M'04)
Recent JMU alumnus Mark Thress (pictured) and rising junior Erik Grendahl placed first in their categories at the 53rd Annual National Student Auditions of the National Association of Teachers of Singing (NATS) held July 5-9 in Boston.
Both Thress and Grendahl earned high enough rankings to advance from the state to the regional competition to being invited to submit an application for the first-ever national competition. Thress and Grendahl worked with Professor Kevin McMillan to create a 12-minute video recording of varied repertoire in order to be considered for an opportunity to compete in one of 12 categories at nationals.
Thress won the Upper College/Private Men category for men aged 20-25 with three to four years of collegiate lessons, and Grendahl won the Lower College/Private Men category for men aged 18-20 with one to two years of collegiate lessons. Both earned $2,000 for their victories.
Thress, who in 2012 placed first in the state competition held at JMU and second in regionals, this year won the state competition and came in second in regionals before being selected to compete in his category at the national level. Fourteen students from the United States and Canada were chosen to compete in each category out of nearly 700 video submissions. Thress and Grendahl competed against students from prestigious music schools like Eastman and Indiana University.
"It was incredible to take the stage against these students and come out on top," remarks Thress. McMillan adds, "We're certainly punching above our weight to compete against such schools and win."
Both Thress and Grendahl say they feel humbled by their success. Thress says this experience has allowed him "to realize that he is on the right path." "It's a reassurance that we don't normally get in our everyday practice and performance." According to Grendahl, "I have worked so very hard over the last two years, and it was very rewarding to see my hard work pay off."
Rounding out JMU's presence at the national competition was junior Joey Mazzara.
Published: Tuesday, July 25, 2017
Last Updated: Wednesday, August 9, 2017