College of Visual and Performing Arts
Health Care Takes Center Stage in Moving Production: A Q&A with Theatre Faculty Member Wolf Sherrill
---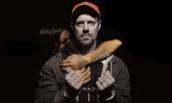 By Madeleine Chalk ('18)
JMU's School of Theatre and Dance welcomes acclaimed actor and playwright Michael Milligan. Milligan presents Mercy Killers, a "raw, emotional and devastatingly honest" portrayal of the U.S. health care system. This one-man show follows blue-collar, American "Joe" and his struggle to overcome being hit with a medical catastrophe. Mercy Killers takes place at the Forbes Center on Saturday, October 17 @ 7:30 pm.
Q: What about this production makes it unique?
A: Mercy Killers is a compelling one-man show that examines the state of health care in America. Part love story, part political commentary, this riveting evening of theatre shouldn't be missed.
Q: What made you want to host the production?
A: The health care debate/battle continues to be an issue that doesn't seem to be going away. We wanted another chance for our students and the general public to experience Michael's work.
Q: What do you hope the theatre students who attend will learn from it?
A: Michael is an expert storyteller. He has created a specific and likable character and thrown him into a high-stakes world. The craft that students will see in Michael's work is an outstanding example of what our students strive for in the classroom.
Q: What do you think those who attend (non-theatre students) will get out of it?
A: They will experience a moving and thought-provoking evening of theatre.
Q: How might this play challenge or expand students' current perception of theatre?
A: Some students haven't had much experience with the format of solo performance. Few actors can command the attention of an audience by themselves. Michael is one of them.
Q: What is special about Michael Milligan's acting?
A: Michael brings an urgent passion, a need to communicate, and genuine vulnerability to his work. His characters are accessible - you feel as if you know them from someplace.
Q: What about this play do you feel is important for viewers to understand?
A: If you are human and have loved, you are ready for this night of theatre! Michael deftly takes care of all the rest.
Published: Tuesday, July 25, 2017
Last Updated: Wednesday, August 9, 2017