College of Visual and Performing Arts
Senior Musical Theatre Major Eyes Graduation, Future in the Arts
---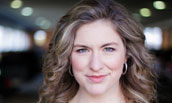 By Jen Kulju (M'04)
Mary Kathryn Johnson believes that God has hard-wired her to be in the arts. Her father is a Christian songwriter and pianist, so Johnson, too, learned to play the piano. She was encouraged to try her hand at guitar in middle school where a year or two of coaching proved enough to guide her natural talent. Her interest in music as well as theatre led her to study musical theatre in college, the first from her high school to pursue that path. 
Originally from Atlanta, Johnson made the hard decision of attending the school farthest from home. "It was not a fun decision to make, but it was the right one." "I knew that in my gut there was nowhere else I could be other than JMU. I fell in love with the campus, the Forbes Center, and how lovely, friendly and driven the people were."
"I knew that in my gut there was nowhere else I could be other than JMU."
It's a decision she hasn't regretted. Johnson lived in Wayland Hall her freshman year where she was immediately able to establish connections with students majoring in the visual and performing arts. She roomed with two dancers and also became friends with visual artists. According to Johnson, "My roommates and I were able to dance in the performance hall (in Wayland) and encourage                                                                            each other. I also have several friends who are sculptors, and I go                                                                              see their exhibitions."
During her time at JMU, Johnson has performed in numerous shows including The Cherry Orchard, Sweet Charity, Gone Missing, Spring Awakening, ALL SHOOK UP, Clybourne Park and Boeing, Boeing. In October, she is playing Lorena Hickok in the Forbes Center musical First Lady Suite. She also earned an ensemble role in Mill Mountain Theatre's production of 42nd Street, which runs in Roanoke during the month of December.
While nourishing her own creative soul, Johnson seems intent on bettering the lives of others. She is currently arguing for the use of dance as a means of healing and expression for victims of human trafficking in her senior thesis. She is grateful for her involvement with Eastside Church in Harrisonburg, and is excited about coordinating the Passion: Even So Come Tour to be held at Wilson Hall in November. Johnson also assists in the School of Theatre and Dance office, and is a member of Stratford Players and the honors theatre fraternity, Alpha Psi Omega (APO).
As for her future, Johnson sees herself as a storyteller who has been gifted with the opportunity to tell someone else's story no matter how "painful or joyful." While she insists on taking "one step at a time," Johnson says she enjoys travelling and seeing places, and would one day welcome the chance to perform on a national tour of a show. Johnson believes she is "called to be the best" at whatever she does and that means being around the people who are the best at what they do. So, New York is also on the radar for performing and possibility even directing. Wherever her journey may lead, Johnson says she plans to "walk through the open doors and follow her heart."
Published: Tuesday, July 25, 2017
Last Updated: Wednesday, August 9, 2017