College of Visual and Performing Arts
Q&A with 2015-2016 CVPA Distinguished Service Award Winner, Mary Jean Speare
---
By Danyel Reid (M'16)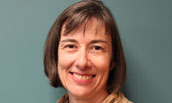 Associate director and graduate program director for JMU's School of Music, Dr. Mary Jean Speare is the recipient of the 2015-2016 College of Visual and Performing Arts (CVPA) Distinguished Service Award. Dr. Speare shares with us her background, as well as what it means to have won the award.
Q: What is the CVPA Distinguished Service Award, and what does it mean to you to have won it?
A: The CVPA Distinguished Service Award is for a faculty member who has contributed in a significant way to the running of a department, school or college. (Or it could also be for other kinds of service—e.g., being the president of a national society). I think I probably owe my award to the fact that when we started the D.M.A. in 2007, I was the one tasked with getting it running. I'm proud of the fact that it has been so successful.
As for winning the award, I was amazed. I think of someone who is distinguished as having served the university or community for 25 to 30 years. I've been here close to 15. Nevertheless, I am thrilled to have been recognized in this way.
Q: What led you to work in administration?
A: As with many administrators, it wasn't a direction I intended to take, but I was asked to take over the position of graduate coordinator in fall of 2005. I found that I really enjoyed helping the graduate students as an advisor, as well as helping to direct the program. As graduate program director, I chair the faculty committee that makes curriculum decisions for the program. I am also the School of Music's liaison with the university graduate council, so I am active in all aspects of the graduate program. When the former director of the School of Music left JMU, our dean asked me to take over as associate director. It has been a challenge doing both jobs, but very rewarding! One thing I never want to do, though, is give up teaching. I especially love teaching seminars that focus on specific topics—like the music of Benjamin Britten, for example.
Q: What classes have you taught at JMU?
A: I have taught all of the undergraduate music history sequence, GMUS 200 (music appreciation) and GMUS 206 (global music), several graduate and undergraduate seminars, French grand opera and its relationship to Verdi and Wagner, and a seminar on Berlioz. I've also taught MUS 600, research methods for graduate students.
Q: What is your professional/educational background?
A: I held one-year positions at Baylor University and the University of Cincinnati, College-Conservatory of Music prior to coming to JMU in the fall of 2001.
I earned a B.M. in piano performance from Eastern New Mexico University, an M.M. in piano performance from Southern Methodist University in Dallas, and a Ph.D. in musicology from Washington University in St. Louis. While pursuing my master's, I developed severe tendinitis and began to take more classes in music history. I had always loved music history and wondered if it might be a good direction to take for my career. I then began a Ph.D. at the University of North Texas (UNT). While I was there, I became interested in 19th-century opera. UNT did not have a specialist in that area at that time, so I found the program at Washington University.
Q: What do you enjoy about opera? Do you have a favorite opera?
A: I think at the most basic level, I enjoy opera because it has everything: it employs music, text and theatre to tell a story. The more one studies the work, the more one understands how the different elements work together (or in some cases are at odds with each other, which is also interesting). I'm not sure I have a favorite opera. I tend to seek out opera performances to see/hear works I've never seen before. I like to discover something new, whether it's a new work or just new to me. I didn't realize how fascinated I was by the genre until I was in graduate school taking a seminar on the works of Puccini. I wasn't particularly interested in Puccini until I was "forced" to study his operas in that class. On the other hand, I think my early exposure to opera had a great effect on me. I went to my first opera at age 9. It happened to be Puccini's Madame Butterfly, and the tenor in that production turned out to be on my dissertation committee about 25 years later!
Q: You are also a musician. What made you want to become one?
A: I started taking piano lessons at age seven. The biggest factor in continuing past sixth grade was wanting to play hard pieces and developing a love for the music of Beethoven, Schumann and Brahms in junior high and high school. However, I had strong opinions about music from a very early age. I remember at about age four disagreeing with an adult who stated that a certain hymn in church was the most beautiful piece of music ever written. I won't reveal what the hymn was in case anyone reading also loves it, but I still dislike that particular hymn!
Q: What is your favorite music to listen to outside of classical music?
A: I've always been odd in that I didn't listen to popular music when I was growing up. When other kids were listening to music topping the charts, I was listening to recordings of Chopin's piano music or the Berlioz Symphonie Fantastique. I did listen to recordings of musical theatre, though. My earliest memory of playing a recording is toddling over to the stereo to put on a record of My Fair Lady. I think I was about four, and believe this early listening contributed to my later love of opera.
Published: Tuesday, July 25, 2017
Last Updated: Wednesday, August 9, 2017