College of Visual and Performing Arts
DMA Student Bids a "Farewell" to JMU with Arrangement
---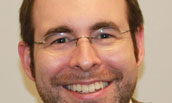 By Jen Kulju (M'04)
Mark Ardrey-Graves began work on his Doctorate of Musical Arts (DMA) in choral conducting in the fall of 2012. He will say goodbye to JMU when he graduates this spring, but had the opportunity to bid a farewell of a different kind when he was asked to arrange a song called "Farewell to You" for the Treble Chamber Choir's performance at the Caladh Nua concert held at the Forbes Center for the Performing Arts in March. 
Caladh Nua is an acclaimed Irish band, and "Farewell to You" was written by Eric Butler, the brother of Lisa Butler, a member of the group.
According to Ardrey-Graves, "Farewell to You" is a wistful song of parting. "It could be a love song. It could be someone dying. It could be someone going on a journey."
Ardrey-Graves' journey in arranging the song occurred over a short period of time. "Due to the quick turnaround required, I did the whole song in two to three days," says Ardrey-Graves.
In those two to three days, Ardrey-Graves used music notation software to arrange a song that could be sung by the Treble Chamber Choir (TCC) alone or sung by the TCC and played with a band (in this case, Caladh Nua). "I tried to keep it so that if the TCC were to sing it on its own, it wouldn't sound empty. If the group wanted to sing it again later in one of their concerts, they could do that."
Ardrey-Graves says the notation software allowed him to change settings and electronic sounds—and to obtain "instant feedback." "I can play the song back and hear it immediately, and I don't have to be sitting at a keyboard."
Ardrey-Graves does spend a considerable amount of time at a keyboard, however. He is currently the music director and organist for the Emmanuel Episcopal Church in Harrisonburg. Ardrey-Graves initiated a Sunday night, sung service at the church. The half-hour candlelight service consists of a choir made up primarily of students; the choir sings a cappella music and Gregorian chant. Ardrey-Graves likes working with students, who he says "get excited about music and singing in a way that other people do not."
Before beginning his DMA program, Ardrey-Graves spent a year as a non-degree seeking student, where he took courses on campus, sang in the JMU Chorale and Madison Singers, and accompanied the TCC. He graduated with an undergraduate degree in music from the University of Richmond before obtaining two master's degrees from Duke University, one in music, the other in divinity.
Looking back on his time at JMU, Ardrey-Graves says his time "has been very rich." "Compared to two or three years ago, I am a more well-rounded musician and conductor—and I have this program to thank for that."
Dr. Jo-Anne van der Vat Chromy has been Ardrey-Graves' primary mentor and teacher while at JMU. According to van der Vat Chromy, Ardrey-Graves "is a very fine singer and excellent vocal model, and has developed into a very expressive and highly competent choral conductor." "He is a marvelous student, an excellent and thorough researcher, and a very fine writer."
As a person, van der Vat Chromy describes Ardrey-Graves as "passionate, intelligent, generous, wonderful and a true leader." She adds that "his capacity to connect, to have choirs respond to him, to create networks and to bring people together are some of his strongest and most enduring qualities." These qualities, combined with his work at JMU and his many years of church music leadership, have given Ardrey-Graves many options for his next career steps. Ardrey-Graves says he is waiting to "see what that next step is …"
Published: Tuesday, July 25, 2017
Last Updated: Wednesday, August 9, 2017