College of Visual and Performing Arts
JMU Madison Singers React to Performing with a Pro
---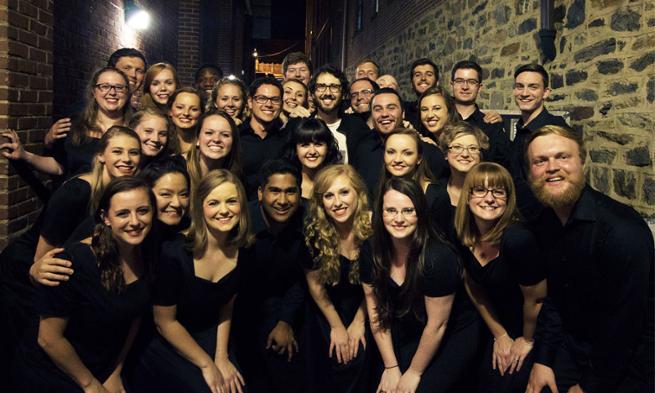 Friendly, flexible and humble are some of the words that students from JMU's Madison Singers used to describe Grammy-nominated recording artist Josh Groban after their performances with him in Washington, D.C. and Philadelphia in mid-September.
Thirty-two voices in the advanced choral chamber ensemble at JMU got the chance to share the stage with the professional artist after Groban's tour manager reached out to director Jo-Anne van der Vat Chromy (known by her students as "Dr. V.").
"Meeting [Groban] was a wonderful experience," says Sam Allen, a senior vocal performance major and seasoned tenor with the Madison Singers. "He seemed incredibly humble." Allen also noted that "the professional music world moves very quickly, and as such, we need to always be prepared. We need to know our music and be ready for any curveballs."
That sentiment rang true for soprano Abigail Schneider as well. A junior studying vocal performance, Schneider says the group "had to quickly adapt to new locations and experiences." She shared her appreciation for Groban's empathy toward having to adapt to frantic situations.
According to Dr. V, one of the best parts of the experience was being allowed to have a picture taken with Groban. "As a recording superstar, his time is precious." After singing a two-hour concert to a sellout house, Groban created the time to join the Madison Singers for a picture in the back alleyway outside the theatre in Philadelphia.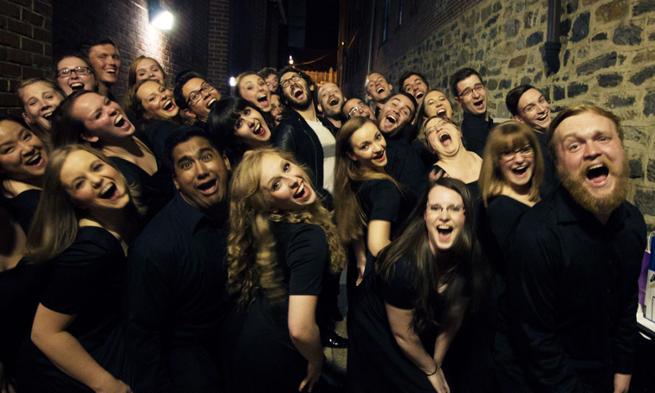 Surrounded by his managers and bodyguards, Groban spent about seven minutes with the Madison Singers--laughing, joking and talking about the pressures and challenges of touring. Then, the pictures happened. "Groban jumped right in and looked as though he was a member of the group!" exclaims Dr. V. The Madison Singers then proceeded to teach him how to do their traditional "turn and laugh," and Groban "completely captured the spirit of the Madison Singers' photo tradition." The pictures taken with Groban will remain a priceless memento and chronicle of an unprecedented and life-changing musical opportunity.
A couple of facets of the experience include learning about touring and rising to the occasion in unexpected and less-than-optimal situations. "Managing adrenaline and managing energy is essential," summarizes Dr. V. "Failing to do so is how careers burn out." Dr. V also stressed the importance of continuing to grow. "JMU's School of Music holds a high level of talent and capacity, but professional opportunities like these allow students to raise their game and prepare themselves for what lies ahead."
Published: Thursday, April 20, 2017
Last Updated: Wednesday, August 9, 2017