College of Visual and Performing Arts
Dance Students Experience Total Artistic Immersion in London
---
By Jen Kulju (M'04)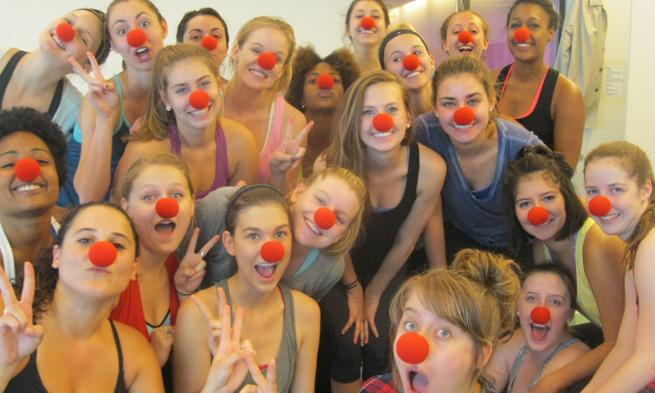 Dance students help co-directors Shane O'Hara and Ric Rose prepare content for their concert at the Forbes Center in January.

Senior Emily Iannotti is one of 22 dance students who participated in the 2014 JMU London Contemporary Dance & Performance Summer Intensive. Iannotti joined other rising sophomores, juniors and seniors, as well as a couple of students from George Mason University, on a 25-day trip across the pond co-facilitated by faculty members Shane O'Hara (JMU) and Ric Rose (University of Florida). The trip, open to intermediate to upper-intermediate level contemporary modern dancers, gave students the opportunity to train, view performances, and take in the cultural sites of the city.
A Plethora of Training Opportunities
Students took classes ranging from contemporary modern dance to Michael Jackson jazz to Afro-Caribbean to hip-hop at centers and studios across London, including at the Laban Centre, one of the major training centers for dance in Europe. O'Hara has worked with instructors at the Centre for the past 10 years, and students like Iannotti found the classes particularly "relevant to contemporary modern dance at JMU."
A trip to Winchester University also presented "a nice sharing opportunity" for professors and students from both universities. "We had classes with their teachers and students and then went to the Hat Fair, the longest running street arts fair festival in England," says O'Hara.
Beyond the training O'Hara set up, students took Pilates sessions with Rose, and were required to seek out classes on their own. According to O'Hara, "A main goal of the program is making students more comfortable with the process of researching studios and finding professional classes in a new city." O'Hara encourages students to become "art warrior adventurers" by providing challenges that force them to break away from the group and interact with the locals. For example, "they go to the National Portrait Gallery and find David Beckham, and then they come back and get a prize."
O'Hara believes these challenges are a small glimpse of what students will experience in the real world. "When students move to a new city, they will not initially have a core group. They will spend 75 percent of their time alone, traveling … and that's a hard thing." Outside of these challenges, students used social media to stay in touch throughout the trip. "It was good to have that sense of community in an unfamiliar territory," exclaims Iannotti.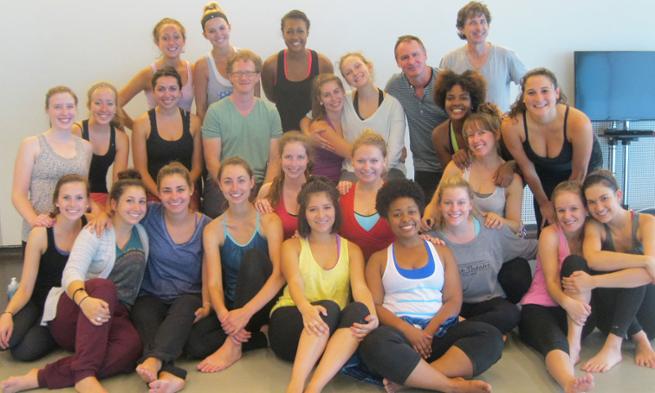 Performances Galore!
"You will never see 15 performances in 25 days again in your life."
That sense of community was also fostered through the watching of 15 performances put on by internationally acclaimed companies and emerging artists. According to Iannotti, "aside from taking classes at the Laban Centre, the performance aspect was my favorite part." "Viewing work is so crucial in my development as an artist, especially a new artist. I was astounded by how big dance was in London."
Students had the opportunity to see Peter Brook's new play The Age of Astonishment, as well as work by Fabulous Beast Dance Theatre (Ireland), Eastman - Sidi Larbi Cherkaoui (Belgium), Netherlands Dance Theatre (Amsterdam), The Edge Performance Company (London), Punchdrunk (London) and Belarus Free Theatre (Belarus).
The vast array of performances was enjoyable for both O'Hara and students alike. "It's a big art hit for me," reveals O'Hara. "How I teach modern dance and my choreography has been influenced by the work." Iannotti adds, "I feel like I saw things that I wouldn't see in the States."
Students are at an advantage in that this trip marked O'Hara's eighth time doing it. Typically done every two years, O'Hara begins planning for it a year in advance. "Part of having done it for so long is that I know all the festivals and venues, and I start buying tickets the January before."
Exploring the City
Whether alone as "art warrior adventurers" or within a group, students had the chance to get a taste of London. From high tea at Kensington Palace to stops at the London Eye, the Harry Potter Studio and Big Ben, students managed their money to see what they wanted. Thanks to a list put together by O'Hara, students could easily pick and choose from sites, including those that were free.
"The main highlight of the tourist part was Kensington Palace," divulges Iannotti. "Sixteen to eighteen of us went, and it was incredible. The entire experience was incredible. I'm so appreciative to be able to study abroad for dance specifically."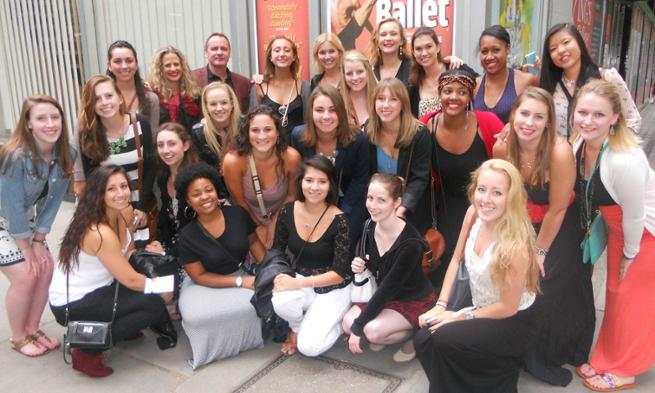 Published: Tuesday, July 25, 2017
Last Updated: Wednesday, August 9, 2017