College of Visual and Performing Arts
'Tis the Season for Giving
---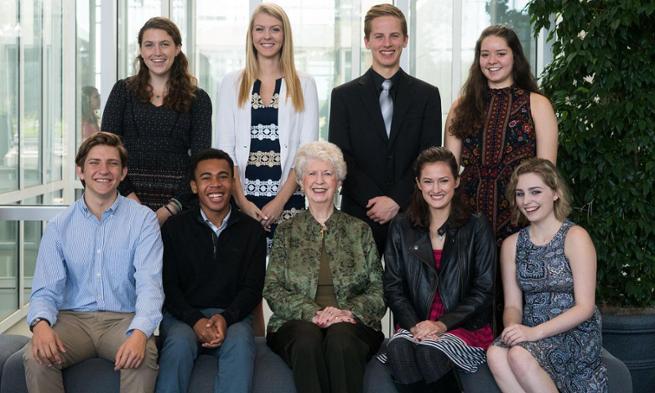 By Jen Kulju (M'04)
The holidays came early for JMU alum Gladys Lisanby and the eight arts students who have benefitted from scholarships she created. This fall, all had a chance to meet and talk at a scholarship luncheon that doubled as a celebration of the Forbes Center production of Children of Eden, which is based on a concept by her late brother-in-law Charles Lisanby.
"It was nice to chat with the students and learn more about them," shares Gladys. "They all seemed both excited and serious about what they're doing, and it feels good to be able to help them start their college careers."
A 1949 graduate, Gladys established the Lisanby Dean's Scholarship program in the College of Visual and Performing Arts and the Lisanby Art History Scholars in Museum Studies Scholarship to support incoming freshman interested in pursuing art history and museum studies.
Lisanby Scholar Madison Dalton is an art history major from Richmond, who also works as an intern in the Lisanby Museum, which supports JMU's Madison Art Collection and is named for Gladys and her late husband James. "I have seen Mrs. Lisanby's portrait while working in the museum, so it is nice to be in her presence and to show her how thankful I am for the opportunities she has given me and my peers," says Dalton, who adds that the Lisanby Scholarship was the deciding factor when it came to picking a college.
Dance major Jordan Foster (pictured below) is also from Richmond, and like Dalton, selected JMU because he received a Lisanby Scholarship. "Financially, college was a struggle for my family, so it's nice to meet Mrs. Lisanby and let her know how appreciative my family and I are for her."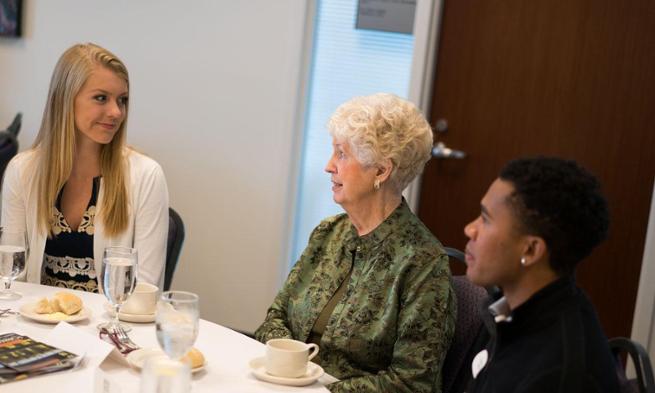 Echoing her classmates, theatre major Peyton Kennedy says the scholarship "tipped the scales" for her to come to JMU. Kennedy, who is an out-of-state student from Basking Ridge, New Jersey, was "honored" to sit next to Mrs. Lisanby at the luncheon. "It was good to learn more about her… share some of my experiences with her… and thank her in person."
Kennedy took a seat with the seven other Lisanby Scholars, Mrs. Lisanby and invited guests for Children of Eden, which boasted the largest cast of a show in the School of Theatre and Dance in 10 years thanks to a donation by Mrs. Lisanby. "With 35 cast members and 10 additional students working behind-the-scenes, every member of the artistic team besides the musical director and me was a student," explains Kate Arecchi, director of Children of Eden and musical theatre coordinator. "Mrs. Lisanby's donation helped us to be able to do the show on a larger scale than we might normally be able to do for a fall musical, and we're so grateful."
Gladys was "so pleased" with the production. "The students performed beautifully. I had to keep telling myself that they were only students." When asked how her brother-in-law Charles would have liked the production, Gladys says, "He would have been overjoyed by the talent, the set design, and the costumes." "Charles was a wonderful artist, person, and mentor. I feel like even after his death, his mentoring continues through this program and these JMU students."
See original Gladys Lisanby story
To give to the arts at JMU, visit http://www.jmu.edu/give/where-to-give/visual-performing-arts.shtml
Photo of Lisanby Scholars by Mike Miriello. (back row from left to right) Taylor Sarlo - art, Peyton Kennedy - theatre, Joshua Ballinger - music, Laura Ruple - music; (front row from left to right) Manoa Bell -music, Jordan Foster - dance, Gladys Lisanby, Madison Dalton - art, Jordan Wright - music. 
Published: Friday, January 20, 2017
Last Updated: Wednesday, August 9, 2017