College of Visual and Performing Arts
Senior Dance Major "Lights" Her Way to Bright Future
---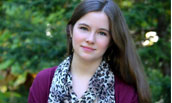 Senior Leah Travers began taking dance classes with her best friend when she was in preschool. When her friend decided to quit dancing in ninth grade, Travers continued, following her ballet studio when it moved from Severn, Maryland to Howard County. Travers would also move from taking classes to teaching "little classes with little kids" to teaching 10-15 year-olds.
When it came time to decide on a college, Travers took a tour of JMU at the prompting of her mother and realized during dance auditions that "the people here care." "The people at JMU—not just in this department, but in this whole entire school—are focused on growing you as a person into someone who you want to be, or someone you didn't even know you could be."
Travers was accepted to the Dance program in the School of Theatre and Dance, and has taken every opportunity to get involved during her time here. She has been a member of the Contemporary Dance Ensemble since her sophomore year, and while she still enjoys dancing, her path has led her behind-the-scenes. She worked as the assistant student technical director her junior year and is the student technical director this year. In these positions, she was backstage doing the lighting and managing/working with the dancers. "They're my girls," jokes Travers. "I'm so excited to be the one who gets to 'light them' and to call the show for them."
During her junior year, Travers stage-managed and did the lighting for the Fall and Spring Student Dance Concerts, and was the stage manager for New Voices in Dance. She also worked on this year's Fall Student Dance Concert, New Dance Festival, DanceShare, and Mercy Killers, her first theatre show. Whatever the show, Travers believes that "lighting takes a piece from something that might not have been as powerful and meaningful—and brings it to another level."
In addition to being a Dance major, Travers is also majoring in Sports and Recreational Management with a Business minor. "I found that I love to manage—manage my dancers, manage the show. With my management major, I learn more about managing people and collaboration." Travers will do an internship in the fall in this area before graduating in December 2016 to determine which direction she wants her career to go.
Having been a student ambassador on campus since her sophomore year, Travers learned that she just loves to give back. She thanks her parents for their support throughout college and for encouraging her to follow her dreams, wherever they may lead.
Published: Tuesday, July 25, 2017
Last Updated: Wednesday, August 9, 2017