College of Visual and Performing Arts
JMU Alumna Curates Photography Exhibition
---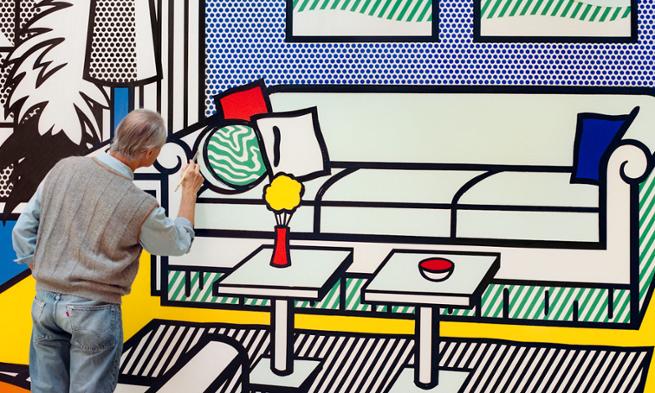 Kristin Miller, who graduated with a B.F.A. from JMU in 2007, is guest curator for A Perspective: Roy Lichtenstein In His Studio exhibition at New Image Gallery. The exhibition, which runs through February 27, displays the work of Laurie Lambrecht from her time spent taking photographs of the American pop artist in his studio during the early '90s. Miller shared her work on the project, as well as her educational and professional experiences in the art world, in an interview with Jen Kulju (M'04).
An Interview with Kristin Miller
What is unique about A Perspective: Roy Lichtenstein In His Studio exhibition?
The book, Roy Lichtenstein In His Studio, is a compilation of images selected from three years worth of photographs taken by Laurie Lambrecht of Lichtenstein in his New York City and Southampton studios. Lichtenstein was in the midst of preparing for his 1993 solo exhibition at the Guggenheim Museum in Manhattan, and allowed Lambrecht in-depth access to his oeuvre. She observed the studio through her lens and explored the source materials, the shards of colorful paper, the stacks of Ben-Day dots, and the carefully sorted comic clippings.
In this exhibition, the viewer will see a selection of contact sheets hung alongside a draft of the book before it was finalized for publication. This exhibition is the only one that exists of this work, to date, that shows the photographs in a raw, unfinished format along with the book in process. Each contact sheet contains several images that depict Roy Lichtenstein at work, many of which have never been shown to the public. It is a fantastic opportunity to see how the photographer, Laurie Lambrecht, really viewed the studio, all the different images, all the different angles and compositions, all in sequence.
How did you get involved with the project?
I met Laurie Lambrecht while working at The Drawing Room gallery in East Hampton, New York. The gallery represents her work on this project as well as many of her other series. We developed a professional relationship and with the onset of the Roy Lichtenstein In His Studio book project, she asked me to help her in the studio. I was able delve into the process of making a book, see how contracts work, hear stories that accompanied each photograph. It was such an incredible learning experience. Each image is a cherished moment for Laurie; you can tell it was a special time for her, being around all the great energy, creativity, and action in Lichtenstein's studio. Being able to share this photographic document was and is so important to her, so I still feel honored to have been a part of the book's release into the world.
What has been your role as guest curator?
Quite a bit goes into putting an exhibition together: creating a concept, making sure the artist is happy with and willing to participate in the show, budgetary issues, generating a press release and gathering press images. Then there is hanging the show; you have to design it so the viewer sees the work and understands what you are trying to convey. My favorite part is opening night, seeing people take in the exhibition and discussing the works.
What are the rewards and challenges of (guest) curating an exhibition?
I think the biggest challenge is always creating a solid concept that will be engaging, interesting, and thought provoking. You want all parties—the artist, school, and yourself, to feel good about the final product.
The most rewarding part of this exhibition was talking to the students about the show and what I do professionally. Sometimes I get caught up in the day-to-day, and verbally sharing my knowledge really put things into perspective. It felt good to realize how much I have learned since graduating. It was so satisfying to be able to share my experience with students who are on the cusp of embarking into the working world.
What has been your career path since graduating with a B.F.A. from JMU in 2007?
The term "path" may not describe my trajectory very well. I'm more of a trial and error type; I like to try it all and give it my all. My first job out of school was at the Parrish Art Museum, where I was in special events and development. The job was amazing. I loved the institution and my co-workers, but I really wanted to work more closely with art and artists. It was then that I started working part-time at The Drawing Room gallery nearby. I worked alongside gallery owners Emily Goldstein and Victoria Munroe. Both are sophisticated and intelligent women who have such passion for what they do. I think it was seeing how their passion allowed them to accomplish so much that made me keep pushing for more. I eventually worked at PACE gallery (my dream job) in New York City and started my own company, KCMprojects. Just last year, I started managing an artist's studio—that of Toni Ross. It's a fantastic role that allows me to continue independently curating and consulting. Toni Ross is an artist, a collector, a pastry chef, and an entrepreneur whose talents and vast knowledge I can only hope will rub off on me a little bit.
What about your education at JMU has prepared you for what you do today?
JMU really satisfied my personal learning needs. I concentrated in metals, but was able to do an independent study in painting, minor in art history and serve as the President of the Art History Club. I have always been interested in business, so I was able to squeeze in quite a bit of that. I even obtained my real estate license while at JMU. Being able to gain knowledge in all of these areas gave me the freedom and confidence to pursue my career ambitions, whether in a museum, gallery, or art studio.
Talk about your own artistic endeavors in painting, drawing and metal work.
Since graduating, despite pursing more "desk" type jobs, I have always made an effort to keep making art. I have mostly focused on drawing and painting, and have been included in several exhibitions over the years. Neoteric Fine Art represents my work. One of my more exciting moments was being included in an art fair during Art Basel Miami.
What do you enjoy most about the arts?
I think the most interesting, enjoyable, and exciting aspect about the arts is that there is never a shortage of newness. I am always discovering new artists, new ideas, and new artworks, and they are always changing the way I see the world around me. Art can change you, make you think more, make you question things. Just the other day I went to the David Zwirner Gallery and discovered Jan Schoonhoven; his work is stark and minimal, but so powerful. It made me notice the subtleties around me, the quiet intensities.
What are your career aspirations?
At this point, I really love what I do; my only hope it to keep expanding on it. I would like to curate more, collaborate with creative and talented people, and continue to be a part of interesting projects—and, of course, one day take over the art world.
What other ways are you involved with SADAH as an alum?
I recently began talking with Kathy Schwartz, the director of the School of Art, Design and Art History, about setting up an art trip to New York City for JMU students. It is my sincere hope that this trip comes to fruition. New York has so much to offer for those in the arts, particularly visual artists.
Every Thursday evening, there are countless gallery openings in Chelsea where artists, collectors, gallerists and countless people from all over the world, meander in and out of exhibitions. Being a part of the energy is such a wonderful experience for aspiring artists and art historians. Beyond the goings-on in Chelsea, students really need to be exposed to the incredible museums. The Metropolitan Museum of Art, MOMA, and Guggenheim are among my favorites.
Photo by Laurie Lambrecht, Roy in Yellow Interior, 1991.
Published: Tuesday, July 25, 2017
Last Updated: Wednesday, August 9, 2017