College of Visual and Performing Arts
Be the Change: Senior Katie Arthur
---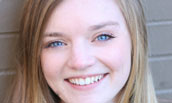 Senior Katie Arthur grew up a ballerina, but decided to try theatre during her sophomore year of high school. Going to shows was a big part of Arthur's childhood in Sterling, Virginia, and being raised in an artistic family spurred her interest in the performing arts.
Arthur's grandmother is a singer and paid for voice lessons for her for a couple of years in high school. Arthur says both of her parents are "good singers," as are her younger brother and older sister, Maddie Arthur, who graduated from JMU in 2013 with a degree in Theatre and Dance and a concentration in musical theatre.
Arthur will graduate with the same degree in May. She added a minor in communication studies this past semester to broaden her career opportunities. Arthur recently interned with "The Sports Junkies" at 106.7 The Fan in Washington, D.C., where she got to "talk on-air and take calls from fans." "I want to do theatre really badly, but I know it is important to develop other skills as well," says Arthur.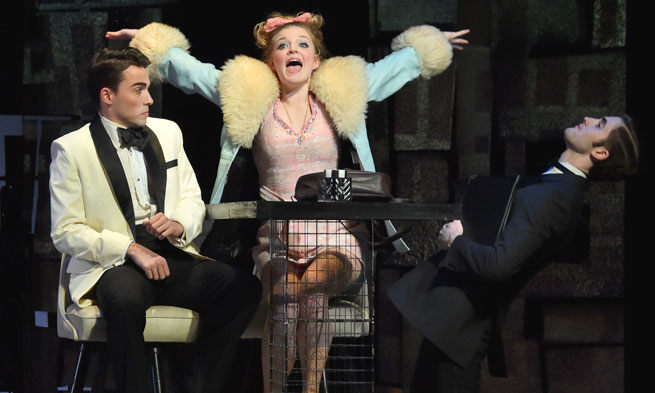 In the event that theatre does work out, Arthur has built quite a resume at JMU. In addition to playing Charity in Sweet Charity, her first lead role in a musical, Arthur has performed in the Forbes Center main stage productions of Spring Awakening, ALL SHOOK UP and Boeing, Boeing. She was also featured in Gone Missing, the musical theatre revues of Six Degrees of Andrew Lloyd Webber and From Here … to Broadway … and Beyond, and the Studio Theatre productions of Cabaret, Assassins and The 25th Annual Putnam County Spelling Bee.
When she is not involved in theatre, Arthur sings in the all-female a cappella group, The BluesTones. She also has an interest in dance movement therapy, which uses dance to heal "any kind of patient." As part of her senior seminar project, Arthur created an anti-bullying video with fellow theatre students incorporating dance movement therapy techniques. The video can be found on YouTube at https://www.youtube.com/watch?v=Jl9MPSHhso8&feature=youtu.be.
Published: Tuesday, July 25, 2017
Last Updated: Wednesday, August 9, 2017