College of Visual and Performing Arts
Be the Change: Kathleen Gardner ('59)
---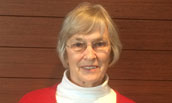 Kathleen Gardner grew up "singing every Sunday" with her two sisters and three brothers while their mother and father played music. Her mother, who "could sit at the piano and hear a tune," also played the ukulele and mandolin; her father played the violin and harmonica. Gardner jokes that the family came together once a week in the spirit of music "whether they wanted to or not."    
Gardner's parents, Roy and Cornelia Carroll Lutz, were teachers (both taught in Mount Jackson in Shenandoah County and then in Harrisonburg City Schools), so valued the importance of an education. Gardner says it was her father's mission to send all of his children to college—his three sons attended Bridgewater College and his three daughters went to Madison College. The youngest of the three sisters, Gardner graduated in 1959 with a B.S. in Education with a concentration in science.
While at Madison, Gardner sang in the Concert Choir, which practiced in the dining room of Harrison Hall. Performances were held in Wilson Hall and across the state. After graduation, Gardner taught fourth and sixth grades in Fairfax and Henrico. She taught "everything," including music.
Over the years, Gardner has found listening to music "peaceful." She likes coming to performances at the Forbes Center, and especially enjoys the Marimba Orchestra & Friends concert and "most of the plays." Prior to the opening of the Forbes Center, Gardner wanted to honor her family by endowing a scholarship for music. In 2009, she created the Kathleen Lutz Gardner Music Scholarship Endowment, which provides funding to a student studying music. So far, two students have benefitted from the scholarship: Dana Scruggs and Dan Holland.
Scruggs, who graduates in the spring, says Gardner's support has helped her to fulfill her "dream of being a violin performance major." Holland, a 2014 graduate, was a music education major from Spotsylvania, Virginia who was the principal oboist in the Chamber Orchestra and Symphonic Band and the tenor saxophone in the Marching Royal Dukes. Gardner attended some of Holland's concerts, which she says was "pretty neat." "It's nice to help him out."
Published: Tuesday, July 25, 2017
Last Updated: Wednesday, August 9, 2017