College of Visual and Performing Arts
JMU Students Explore Arts, Healing and Health in Russia
---
By Jen Kulju (M'04)
Dance professor Kate Trammell is breaking down barriers and changing perceptions of Americans on an international level. Trammell traveled to Russia with JMU alum and EMU arts faculty member Cyndi Gusler and eight undergraduate students from various disciplines (seven from James Madison University and one from George Mason University) for a near month-long study abroad program that explored arts, healing and health in that country.
According to Trammell, the trip looked at "how the arts can be involved in healthcare, particularly in terms of improving the lives of children who've experienced loss and trauma." Students went into orphanages and pediatric hospitals in Moscow and St. Petersburg and performed "humanitarian clowning," a form of improvisational play used to connect with individuals in challenging situations.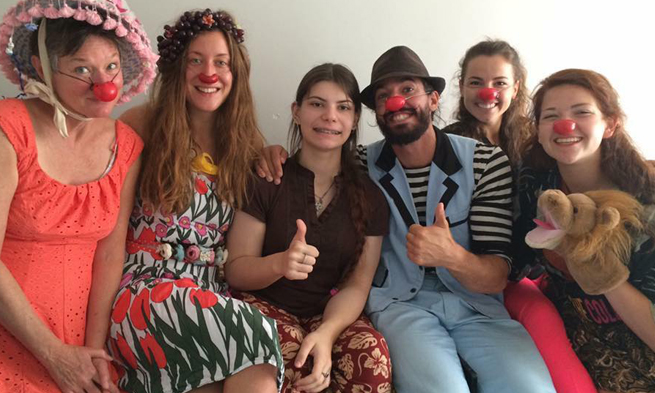 JMU dance major Lindsey Pugh noted that clowning wasn't always about being "the loudest or the most outrageous," but that listening with the ears and eyes played an important role in assessing the needs of the children. Reading body language proved particularly valuable for students because of the language barrier; however, the language barrier was not seen as a deterrence, but rather a way to be more creative in terms of movement and play.
Students also spent a couple of weeks teaching classes at an arts-based summer camp for children with disabilities from Russian orphanages. The two-week camp was run by volunteers at Maria's Children, a non-profit that serves orphans and those transitioning out of orphanages, helping them to heal by providing arts education experiences. Trammell and Gusler worked with students to help them develop lesson plans for workshops in their areas of specialty, including dance, bookmaking, theatre games and improvisation, and music-based courses. All activities promoted teambuilding and trust, which Trammell says the children at the orphanages don't have as much of a chance to foster because they're not in families—but that "the arts teach people."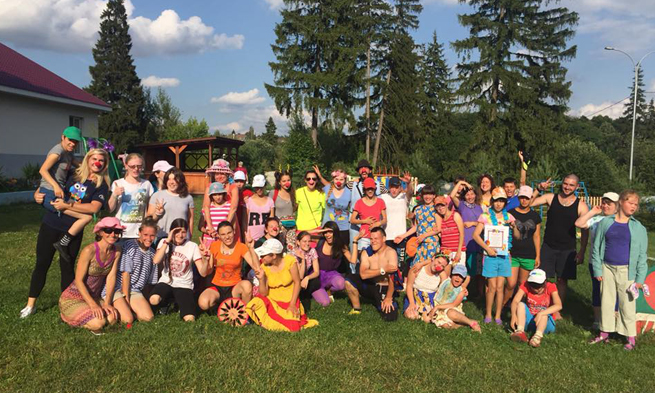 Carly Delaney, a health sciences major with a concentration in pre-occupational therapy at JMU, says the trip taught her "how artists and healthcare providers can work together to enhance well-being and public health." The only science major in the group, Delaney was able to see the power of the arts to bring emotional, social and spiritual healing through dance movements, singing songs, making instruments and creating artwork at the camp.
Trammell says this interdisciplinary and international effort "brought down walls, changed the students' perspectives about Russians, and also changed Russians' perspectives of Americans." "Everywhere we went, people responded to the fact that we were there on behalf of Russian children."
Published: Thursday, January 19, 2017
Last Updated: Wednesday, August 9, 2017