College of Visual and Performing Arts
Senior Music Education Major Receives Funding to Further Field
---
By Jen Kulju (M'04)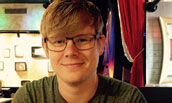 With an interest in music technology, Jon Stapleton began producing electronic music in high school, first in New Mexico and then in Lorton, Virginia. He found the electronic music community to be quite different from that of the Western classical tradition, and desired to bridge the gap between the two. "I wanted to participate more meaningfully in the electronic music community, which led me to building customized electronic interfaces," shares Stapleton.
Stapleton has had an opportunity to further that interest as a music education major at JMU. He presented a project on customized MIDI (Musical Instrument Digital Interface) controllers at a Virginia Music Educators Association (VMEA) Research Poster Session in the fall of 2014.
Stapleton says he used that experience to inform his next project, which came about after a meeting in the spring of 2015 with Smithland Elementary (Harrisonburg, Virginia) music teacher, Perry Shank, regarding how to improve student classroom interaction with music and each other, given limited instrumental proficiency.
The two decided to design an electronic instrument interface that would allow Shank's students to better collaborate with one another—and were able to do so thanks to a scholarship for undergraduate research awarded to Stapleton by the College of Visual and Performing Arts (CVPA).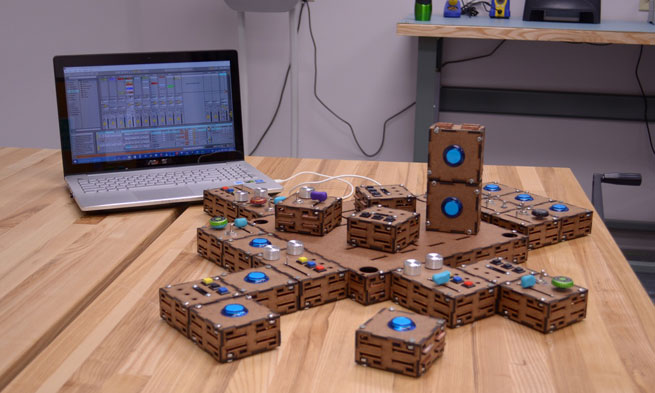 "We ended up making a set of tiles that locked together and formed a modular interface (the idea being small, discreet parts that each performed a specific function), filling the role of an instrument for students who didn't know how to play a traditional acoustic instrument or for students who did know how to play but had decided they would rather play the interface," says Stapleton.
A later iteration of the interface would focus on buttons, sliders and knobs, whose functions were programmed into computer software to create sound. (To see a video of how the electronic instrument interface works, visit https://www.youtube.com/watch?v=xTkXQiAhCTc.) According to Stapleton, "We wanted to have students think critically and be intentional about how they were interacting with the sound and its interface as they made music."
Stapleton presented his project at the Interactive Multimedia Performing Arts and Collaborative Technologies (IMPACT) Conference at New York University this past summer and received additional funding from the CVPA in the fall of 2015 to further his research. A case study is currently underway of Shank's students and their interactions with the controllers. The findings will be presented at the International Society for Music Education (ISME) 32nd World Conference in Scotland in July.
"These scholarships do so much to broaden how we approach our discipline," reveals Stapleton. "Pursuing this interest through research has allowed me to talk to a lot of people at JMU about music technology and what it means for our field."
Stapleton will head to graduate school in the fall, but has made the most of his time at JMU. In addition to his research, Stapleton is a woodwind player who was principal saxophone for the Wind Symphony (WS) his junior year and half of his senior year. He played second saxophone for the WS his sophomore year, and was also principal saxophone for the Symphonic Band. Stapleton has played in saxophone quartets throughout his four years at JMU, in a reed quintet, with the Symphony Orchestra, and in the Jazz Band.
Published: Tuesday, July 25, 2017
Last Updated: Wednesday, August 9, 2017