College of Visual and Performing Arts
Back in the 'Burg: Theatre Alum Return to JMU for Production
---
By Madeleine Chalk ('18)
In addition to being a crazy comedy about theatre students making fun of theatre, Anton in Show Business is "a celebration of our alumni," says JMU faculty director Ingrid De Sanctis. The show features the behind-the-scenes talent of recent graduates Stephanie Freed and Lizzie Donelan.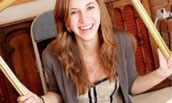 Stephanie Freed returns to JMU as a member of the lighting team for the production of Jane Martin's Anton in Show Business. Originally from Waynesboro, Va., Freed graduated from JMU in 2010 with a B.A. in theatre before moving to Washington, D.C. to work as a freelance lighting designer and electrician. After a couple of years, Freed landed a spot on the national tour of the musical American Idiot. She now lives in New York City, where she most recently worked as a lighting designer and electrician for Fashion Week New York 2015.
Want a career in the arts? Freed stresses the importance of "reaching out to people and being genuine." "People want to work with people who are eagerly interested." Equally important, according to Freed, is "to pursue outside interests."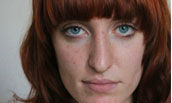 Lizzie Donelan is "happy to be back at JMU" as the costume designer for Anton in Show Business. After graduating with a degree in theatre from JMU in 2011, Donelan moved to Pittsburgh, where she earned her M.F.A. in costume design from Carnegie Mellon. She then relocated to New York and found freelance work assisting costume designer Suttrirat Larlarb on musicals including Finding Neverland on Broadway and Waitress at Boston's American Repertory Theatre.
Donelan considers herself "lucky to be back at such a beautiful, inclusive school," and encourages aspiring artists to "take advantage of their arts degree and all JMU has to offer."
Published: Tuesday, July 25, 2017
Last Updated: Wednesday, August 9, 2017