College of Visual and Performing Arts
Microbiology or Music?
---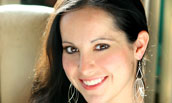 By Jen Kulju (M'04)
After graduating with a double major in microbiology and music from Ohio Wesleyan University, Jessica Spafford took a year off to apply to medical school and master's programs in music. It was at this point that Spafford felt like she needed to pick a path and decided to pursue opera performance.
Spafford, a coloratura soprano, earned her Master of Music degree in performance from Duquesne University in Pittsburgh, where she grew up playing the trumpet and participating in musical theatre. She became passionate about music after she was cast in a local production of the musical Annie at the age of seven, and continued to participate in as many ensembles as she could throughout childhood. It wasn't until the end of her freshman year at Ohio Wesleyan, though, that Spafford discovered her talent for opera. "It was a fun discovery," shares Spafford, who is now a second year D.M.A. student in vocal performance at JMU.
Spafford believes that JMU was the right choice for the next step in her education. "I like the people and the positive, supportive environment," says Spafford. She adds that one of the reasons for pursuing her doctorate was for the teaching experience, and thus far has enjoyed teaching two music appreciation classes, as well as private and small group voice lessons. She also calls her teacher, Dr. Dorothy Maddison, one of the "best vocal pedagogues I have ever personally known."
In addition to teaching, Spafford enjoys performing, and is taking part in her second Opera Spotlight at JMU. She also performed in the Forbes Center productions of Rossini's The Barber of Seville (Rosina) and Puccini's La Bohème (Musetta). Other highlights of Spafford's career include playing Susanna in Mozart's The Marriage of Figaro and Soeur Constance in Poulenc's Dialogues of the Carmelites, as well as participating in the University of Miami's "Summer in Salzburg" program, where she lived with a host family in Austria.
As for her future, Spafford would one day like to become a professor and direct a university opera program. She thinks she owes it to her prospective students, however, to obtain professional performing experience first. To that end, she may seek out work in a young artist program or an opera house following graduation.
Published: Tuesday, July 25, 2017
Last Updated: Wednesday, August 9, 2017