College of Visual and Performing Arts
Be the Change: Ingrid De Sanctis
---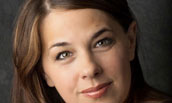 Now in her third year as a tenure-track, full-time playwriting professor at JMU, Ingrid De Sanctis loves teaching and creating work that moves people. De Sanctis, whose father was a preacher, says "theatre is a little bit like church" in that people like to gather and be moved.
De Sanctis grew up in New Jersey and spent some time living in Florida before attending Eastern Mennonite University. She earned a bachelor's degree in social work, but her career direction was forever changed after playing Helen Keller in a university production.
After graduation, De Sanctis joined Up with People, a global education organization dedicated to bringing the world together through music and service. De Sanctis travelled to 25 different countries in three years before leaving the group to pursue her M.F.A. in acting from the University of North Carolina – Greensboro. Initially, De Sanctis was drawn to acting; however, as time went on, she became more interested in directing and playwriting. "In the last 10 years, playwriting has become that mysterious, difficult process that really intrigues me."
Also intriguing to De Sanctis are stories of transformation: people who have "moved out of the darkness and into the light." De Sanctis, who says her favorite part of the playwriting process is interviewing people, has had the opportunity to shed light on social justice issues in Torba, a play about refugees in the Balkans; A Body in Motion, a play about survivors of violent crime that was performed for prisoners who were incarcerated for similar crimes; and Sarah & the Dinosaur, a play about a former student who had cancer, where the cancer manifested itself as a dinosaur.
At JMU, De Sanctis has directed Romeo and Juliet, The Trojan Women, and is currently directing the "funny and entertaining" Anton in Show Business, which runs from September 29-October 4 at the Forbes Center.
De Sanctis appreciates stories about the big questions of humanity, survival, brokenness, transformation and empowerment. "Theatre is not about oneself, but about empathy and a response to the world around you."
Published: Tuesday, July 25, 2017
Last Updated: Wednesday, August 9, 2017