College of Visual and Performing Arts
JMU Industrial Design Major Official; First Class to Graduate in December
---
Contributors: Jen Kulju (M'04), Madeleine Chalk ('18)
Seven students will be the first to graduate with the newly minted Bachelor of Science in Industrial Design degree in December 2015. The Board of Visitors approved the major on October 9, making it the second of its kind in the state after Virginia Tech.
According to Audrey Barnes, assistant professor and area head for the Industrial Design program, "Industrial Design has historically focused on the manufacturing of commercial goods, but the discipline has evolved over the years to include the design systems and services that may or may not be tangible goods."
JMU's Industrial Design program addresses the interaction between humans, objects and their environments through a "design thinking" approach to problem solving. "It's designing collaboratively with stakeholders, not for stakeholders," says Barnes. "We develop empathy for people, who they are, their context and their culture, in order to create appropriate products, systems or services."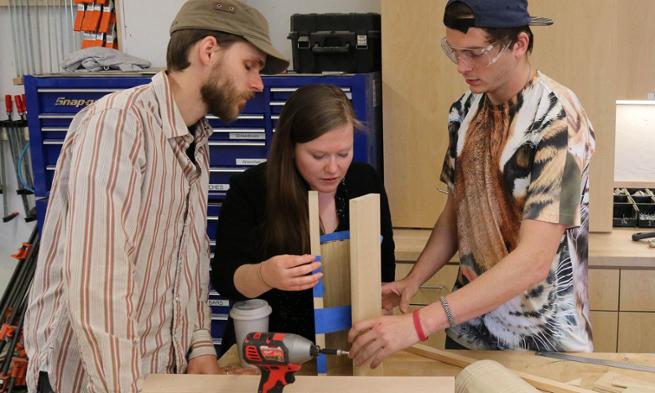 Developing a human-centric approach to design requires students to take classes in sociology, anthropology and business in addition to core courses in sketching and drawing, 3D modeling, CAD (computer-aided design) and 3D printing. Students must also grasp an understanding of materials and manufacturing, as they design for mass manufacturing in wood, metal, plastics, polymers, ceramics and textiles. "The practicality of the major combined with the creative freedom it allows us is exciting and interesting for me," reveals Phillip Bannister, one of the program's graduating seniors.
According to Barnes, Industrial Design is a professional degree that requires graduates to have a specific skill set no matter what school they attend, but JMU's emphasis on entrepreneurship sets it apart from other programs. "I tell students that when they graduate they likely have the least amount of risk in their lives, so why not try to launch a product or do something they're passionate about."
Barnes was employed for nearly seven years as an industrial designer in various fields before attending graduate school at Rhode Island School of Design and ultimately coming to JMU nearly four years ago. She started working to convert Industrial Design as an emphasis area to a major during her second semester here. "In term of process, it has been a long time coming," says Barnes.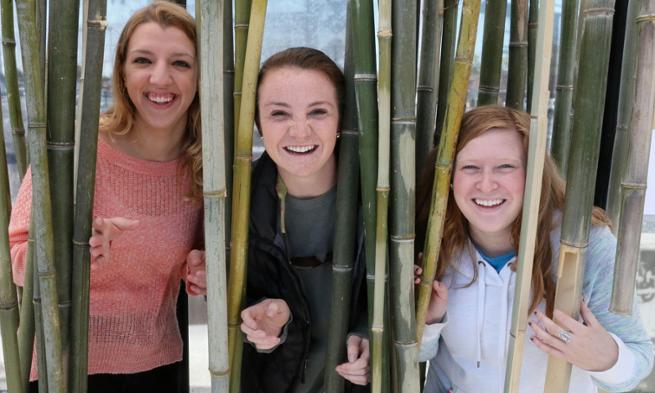 Over that time, the Industrial Design program has grown from 22 to 35 students—and that number is likely to grow due to increasing exposure. At JMU, Industrial Design will now be listed as a major in the course catalog and on the School of Art, Design and Art History website. It will also show up on nationally-recognized websites for Industrial Design, including the Industrial Design Society of America (IDSA).
Barnes adds that the JMU student chapter of Industrial Design recently became an officially recognized student organization at the university, a positive considering 70% of students find out about the program by word-of-mouth, according to Barnes.
With a small student-faculty ratio, students appreciate the individualized attention they receive from Barnes on their projects. "She's our superhero," declares junior Taylor Brusky, who with the skills she has developed in designing, empathy and collaboration desires a career "making things more efficient and sustainable for people and the environment."
Barnes says Industrial Design students generally pursue one of three career tracks: an in-house corporate designer, design consultant or founder/entrepreneur of their own venture. The recognition of Industrial Design as an official major should open up career opportunities for students in these areas. Senior Andrew Bieber hopes to land a job at an Industrial Design firm after graduating in December. He says seeing the Industrial Design major at JMU come to fruition is really satisfying, and he is "filled with pride" at being part of its first graduating class.
Tim Moore, Kelsey Nunn, Jeffrey Thelin, Koey Beeken-Hiner, Corey Murphy and Isabel Yun round out the list of Industrial Design students graduating in December. For more information on JMU's Industrial Design program, visit www.jmu.edu/artandarthistory/programs/industrial-design-bs.shtml. You can also view the following video: https://youtu.be/OV5z503dOkA
Photos by Bob Adamek.
Published: Tuesday, July 25, 2017
Last Updated: Wednesday, August 9, 2017