College of Visual and Performing Arts
Concerto/Aria Competition Winners Prepare for Honors Concert
---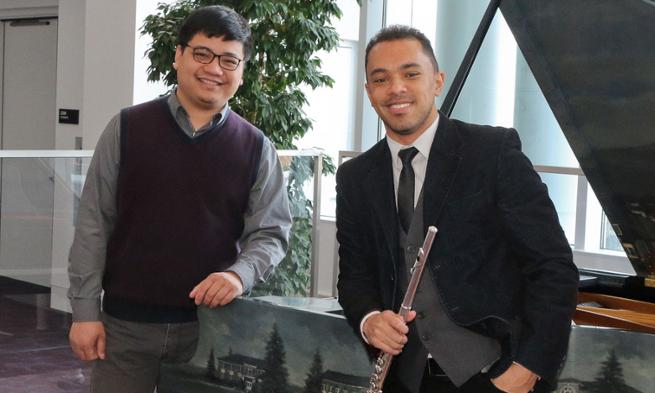 The JMU Symphony Honors Concert is right around the corner, and two students in particular are busy preparing. DMA music student, Clement Acevedo, and master's student, Guilherme Andreas, will get their chance to perform with the JMU Symphony Orchestra on Sunday, April 19 @ 2 pm at the Forbes Center for the Performing Arts.
Acevedo, a pianist, and Andreas, a flutist, won the 2015 JMU Concerto/Aria Competition earlier in the semester to earn a coveted spot in the concert. Acevedo will perform Ravel Piano Concerto for the Left Hand in D major, and is from the studio of Dr. Gabriel Dobner. Andreas will perform Reinecke Flute Concert in D major, Op. 283, and is from the studio of Dr. Beth Chandler. Both students played these pieces in the Concerto/Aria Competition.  
While both students had the opportunity to choose their music, Acevedo says, "the music chose me." Acevedo sustained an injury to his right hand last year, so opted for a left hand-only piece. Andreas selected his piece because he believes it "is one of the most beautiful concertos written for flute."
Acevedo and Andreas have been practicing with the Orchestra—Andreas for a month and Acevedo for the past week. "To perform in this concert is a huge opportunity. I feel humbled and grateful," shares Andreas. Acevedo adds, "It is truly an honor." "I only hope that performing my piece will give a glimpse into the collective talent in the JMU School of Music."
Also on the program for the Honors Concert is the JMU Chorale, who will sing Francis Poulenc's Gloria.
Published: Friday, January 20, 2017
Last Updated: Wednesday, August 9, 2017