College of Visual and Performing Arts
From Havana to Harrisonburg: Piano Doctoral Student Happens Upon JMU
---
By Jen Kulju (M'04)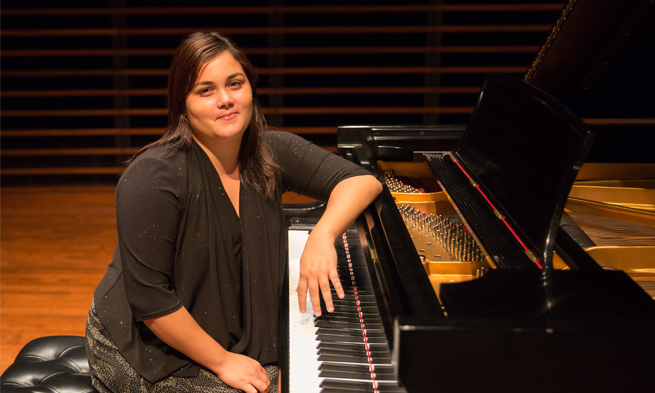 Yanet Bermudez is a long way from home. She grew up in a family of musicians in Havana, Cuba, where she lived with her grandparents and great grandmother. Her aunt was a cellist, and her father was a popular music arranger who played the clarinet, saxophone and piano.
According to Bermudez, parents in Cuba must decide if their children will be musicians by certain ages, depending on the instrument. For piano, the age is eight. So, when Bermudez was eight-years-old, her parents decided she would become a pianist. After the necessary prep work, Bermudez was accepted into the National School of Arts in Havana, where she would study from age 8 to 18—and attend both middle school and high school.
Bermudez says that the piano program at the high school level was highly competitive. "Students came from provinces across the country to see if they could get in … Out of 100 students, four got accepted every year."
Bermudez was one of those students. She then advanced to the university level, where she was one of two accepted to study piano performance at the University of Arts of Cuba in Havana. It was in an undergraduate music class that she met her Venezuelan trumpeter husband, Adrian Cottier, and the two moved to Venezuela for a year after graduating in 2012.
In 2013, Bermudez began a master's program in piano performance at the University of Tennessee, Knoxville, where her sister was also pursuing a master's degree. Cottier's parents lived in Pennsylvania, so the two would often drive though Harrisonburg. During one unintended stop, they decided to explore the town and discovered a university!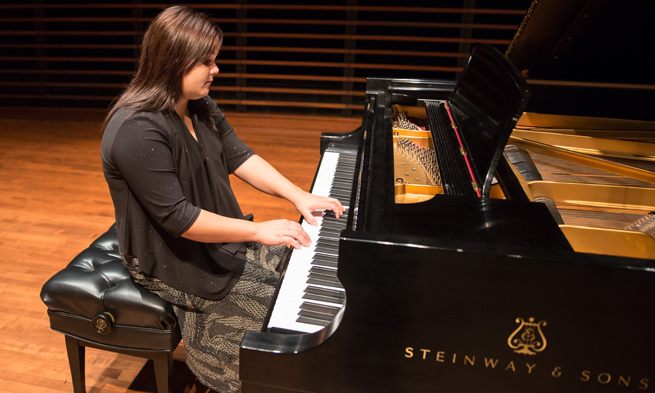 Bermudez is now in her second of three years as a doctoral student majoring in piano performance at JMU. "I like it here," claims Bermudez. "I have had the opportunity to teach beginning through advanced levels of subjects, which has allowed me to expand my knowledge. I have gotten to work with top graduate music students in other areas, and students are respectful of international students."
Being a student from Cuba does comes with some adjustments admits Bermudez. "Here I am constantly exposed to the Internet, use a smart phone all the time, and use a computer to write papers." Bermudez says that the Internet is slow and quite expensive with no Wi-Fi in Cuba, that cell phones are not important in that country, and that papers are written by hand.
From a music standpoint, Bermudez claims that Havana is filled with musicians who play purely "for the love of music." Her dad was an exception; he arranged music all over the world and was paid to do so. (Workers on average are paid an average of $30 per month in Cuba; however, the cost of living is low because the government provides subsidies such as free education and healthcare.)
Overall, Bermudez was happy living in Cuba, but is looking forward to making her own life in the States. She is currently teaching the Suzuki method of learning piano at EMU, and hopes to continue teaching at a college level after graduation.
Published: Tuesday, July 25, 2017
Last Updated: Wednesday, August 9, 2017