College of Visual and Performing Arts
Duke Hall Gallery Internships: Interest Meeting Nov. 18
---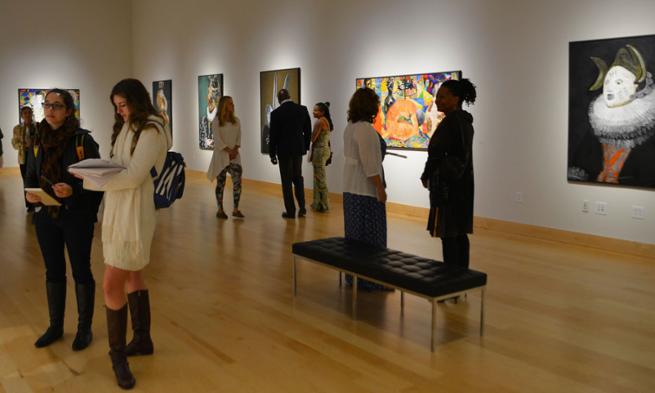 By Liz Connor ('15)
A meeting will be held on Tuesday, November 18 at 6 pm in Duke Hall Gallery for students interested in an internship at the Duke Hall Gallery of Fine Art for the Spring 2015 semester.
The one-credit internships in art or art history are open to all JMU students who wish to learn and work in a professional gallery environment. Positions are available in graphic design, grant fundraising, photography, art education, archiving, artist interviewing and publicity.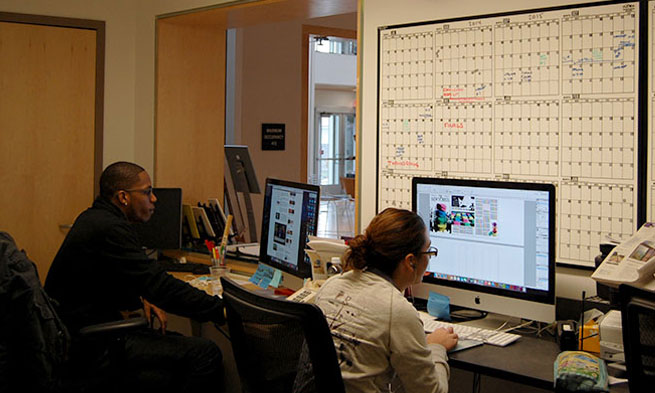 With more than 50 interns each semester, Gary Freeburg, director of Duke Hall Gallery, has built a robust program that gives students the chance to "get a feel" for a real gallery job. "I want the students to contribute to the gallery space as much as possible so that they feel connected and have a sense of pride about the Gallery," says Freeburg.
The three-hour-per-week internship involves students monitoring the gallery space and attending gallery opening and seminars taught by Freeburg and other School of Art, Design and Art History (SADAH) professors.
"Given the opportunity to intern for Duke Hall Gallery is a privilege and honor. As an intern, I have gained more experience than I could have imagined. The Gallery is a creative space for interns to thrive as a community."
– Liz Connor
Students have responded positively to the internship opportunity. "It is great to experience to work in a professional environment outside the classroom with art," exclaims Kasia Burns, a sophomore graphic design intern. Mary Jaggars, a junior gallery intern, adds that the experience "has introduced her to other SADAH students."
According to Freeburg, the internship program has nowhere to go, but up. As a long-term goal, he envisions students starting out as interns in other galleries on campus, like artWorks and New Image Gallery. After learning the basics of gallery practices, students move to an internship at the Duke Hall Gallery, honing their skills in gallery practices and working with professional artists. Students then proceed to working with collections (like the Lisanby Collection), which is more closely related to actual museum practices.
Fall 2014 marks the first semester that the Duke Hall Gallery is officially open, and many parties on campus have hosted—or shown an interest in hosting—events in the space. Interns are invited to the events. "It is a great way for them to meet new people from the university and experience another side to the university system," reveals Freeburg.
For more information on the interest meeting, contact Gary Freeburg at freebugl@jmu.edu.
Last Updated: Friday, January 20, 2017