College of Visual and Performing Arts
#addictedtoflow; Choral Director Strives to Create Empowering Culture for Students
---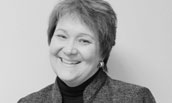 By Jen Kulju (M'04)
Now in her sixth year at JMU and fifth as director of choral activities, Jo-Anne van der Vat-Chromy (or Dr. V as her students affectionately call her) loved singing growing up in Maryland and is now living her lifelong dream of becoming a conductor. "When I was 13 years old, I saw Leonard Bernstein conduct and that was it. I wanted to be a conductor."
Dr. V's path to becoming a conductor would take her on a journey of experiences across the country and even across the pond, with stops in Ohio, Michigan, the Netherlands, Belgium, and most recently, Florida, where Dr. V earned her doctoral degree in music education/choral conducting from Florida State University.
Since joining JMU's School of Music in 2010, Dr. V has put her research findings at Florida State to use by striving to create empowering ensemble cultures that combine the best behaviors of personal and musical excellence. She wrote her dissertation on the cultures created in choral music classrooms, inventing a survey instrument now used by industry professionals to identify and measure formative elements of ensemble cultures for conductors and teachers of bands, choirs and orchestras.
As the director of the Madison Singers, JMU Chorale and University Women's Chorus, Dr. V curricularizes the importance of safety, belonging and mindfulness for other people, and practicing (!), while being dedicated to creating "flow" with each other. According to Dr. V, flow is the combination of skill, challenge and release, moments that are a result of striving for musical excellence and a surrendering to something greater than individuals are alone.
Dr. V. tells her students she is "addicted to flow" (#addictedtoflow), reinforcing that human beings are made to be together and to transcend as a group. "Current research indicates that flow experiences are important motivators for lifelong participation in music," voices Dr. V.
As for JMU students, Dr. V says they tend to be natural leaders. "If you show them how to lead, they're going to do it, which makes the interdependence in the ensembles just fascinating." This interdependence is breeding success and opening up performance opportunities for the ensembles. The Madison Singers performed at the International Symposium on Assessment and Music Education (ISAME) in Williamsburg in 2015, at the National Presbyterian Church in Washington, D.C. in 2014 and 2016, and sing every summer at the Piccolo Spoleto Festival in Charleston, South Carolina, where they are regarded as the top choir in the Churches and Synagogues Series. They have also had the opportunity to sing with Grammy-nominated performing artist Josh Groban and America's favorite storyteller Garrison Keillor—and will sing a few select numbers with the acclaimed Irish band, Danú, in March.
The JMU Chorale was selected to sing in the Virginia Music Educators Association (VMEA) conference this past November, and "every rehearsal is a highlight" for the University Women's Chorus, according to Dr. V. "Nursing, SMAD and journalism majors, students from all across campus come to the University Choruses to sing because they love music, no matter their formal academic focus."
Dr. V's students aren't the only ones who love music. Dr. V says she loves every aspect of her job, from teaching beginning and intermediate conducting to mentoring doctoral students to community outreach. "In whatever form, music-making is community building at its very best."
Published: Tuesday, July 25, 2017
Last Updated: Wednesday, August 9, 2017