College of Visual and Performing Arts
One-on-one with Daniel Beaty
---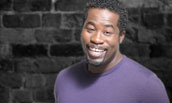 Daniel Beaty is an award-winning actor, singer, writer and composer. He won the 2007 Obie Award for Excellence in Off-Broadway Theater for Writing & Performing, the 2007 AUDELCO Award for Solo Performance, and two NAACP Theater Awards including Best Actor.
Beaty will perform his explosive solo play, MR. JOY, at the Forbes Center on Saturday, September 19 @ 8 pm. 
Daniel Beaty Interview with Jen Kulju (M'04)
Q: How and at what age did you start acting, singing, writing, composing?
A: I recited James Weldon Johnson's "The Creation" for a school assembly in second grade, and I just thought I was doing exactly what I was supposed to be doing in the world. When I saw Dr. King give his "I Have a Dream" speech, I began to feel that someone could not only bring people pleasure with their words, but they could move them deeply by sharing in front of big groups of people. So, for several years I did the motivational speaking as a child trying to be like Dr. King, which led me into acting and singing by middle school.
I had teachers who really encouraged me, teachers named Mrs. Adams and Mavis Jackson. They would call the local service organizations like the Kiwanis and NAACP and say, "I've got this second grader … this third grader has written a speech. Can he come to your meeting and share?" I became known on the circuit of these service organizations as a young motivational speaker, and I traveled all over country giving speeches.
Q: What have been some of the highlights of your career?
A: I've had so many wonderful moments and more to come. I'm working on a play now with the brilliant director Moises Kaufmann about the life of the performer and activist Paul Robeson. I spent last year touring that all over the nation at really wonderful theatres. I literally just wrapped up playing the lead in my first feature film that I also co-wrote called "Chapter and Verse" with really wonderful stars. It was a new world for me, but an unbelievably exciting world.
Q: What do you find most rewarding about your career?
A: I love being able to tell the stories that I'm passionate about … that I believe the world can benefit from hearing – whether that's laughter or that's being provoked to think deeply. I've been very blessed to build a career around things that I care about versus necessarily having to take the next job available.
Q: What do you find most challenging about your career?
A: I'm in a moment of tremendous growth, and I have not yet been able to build a team to support the growth that I'm having. So, the challenge is, "How to do you it all?"
Q: Why do you do what you do?
A: I believe my purpose in the world is to transform pain into power. I wrote a book of the same title. I spent the first 25 years of my life in a lot of pain, emotional pain from some traumatic things that happened in my home. As I developed the skills to negotiate that pain and to be present in my life, I wanted to tell stories that caused people to know or at least consider the idea that though we all have pain and painful experiences, life doesn't have to just be that … that we can find paths to be free and really enjoy our lives and to be connected to our purpose. That's really what my stories are always about. They're about people who face challenges but who dig deep into their resiliency to overcome.
Q: What do you believe is the purpose of theatre?
A: Theatre possesses the unique ability to allow us to see ourselves and see ourselves in a community conversation. While social media and the Internet is connecting us as a world community, I think there is something very powerful about gather physically around a thought or idea. And it's really important for playwrights to create work that feels relevant and "truly theatrical," whatever that may mean, so that the audience is engaged.
Q: What's the most important lesson you've learned in your life?
A: I have so many. That's part of why I write because I have so many different lessons I've learned in my life.  They constantly change as new things happen. I think the most important current lesson is "everything in balance." I am most good to myself and to the world when I have a balanced life, and that means a life rooted in purpose, but also time with family and friends, time to rest, time to ponder the choices I've made and next steps.
Published: Tuesday, July 25, 2017
Last Updated: Wednesday, August 9, 2017