College of Visual and Performing Arts
JMU Alum Realizes Broadway Dream on "The Book of Mormon"
---
By Jen Kulju (M'04)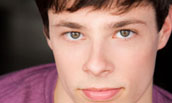 JMU musical theatre alum Corey Hummerston ('10) is living his dream of becoming a Broadway actor. It's a dream he has had since starting to work at the Dutch Apple Dinner Theatre in Lancaster, Pennsylvania, at age six. Twenty years later, Hummerston is now a swing and dance captain on The Book of Mormon on Broadway.

"To have accomplished my dream is something," shares Hummerston. "I feel fortunate that I get to do a show that I love and to be part of a company that respects its actors so much." Hummerston joined the Broadway company this summer after having spent 10 months with the Chicago company and two years touring the musical, which pokes fun at the beliefs of The Church of Jesus Christ of Latter-day Saints. The book, lyrics and music for the show were written by Robert Lopez, Trey Parker and Matt Stone. Parker and Stone created "South Park," which may explain the wide appeal of The Book of Mormon, particularly among young people.
Hummerston was an ensemble member for two years and a swing and dance captain for one before joining the Broadway company as a swing responsible for covering seven ensemble roles. "I have to be ready to go at any time, including mid-show," reveals Hummerston, who remembers running down the hall with five minutes to get into costume and on stage the first time he was called into action during a show. "When I was first learning the roles and going on as a swing, it was a lot. Now that I've done all of them, it's not as stressful."
Prior to The Book of Mormon, Hummerston acted in Damn Yankees and Newsies at Paper Mill Playhouse in Millburn, New Jersey. As part of the Newsies cast, he got to perform on The View and appear in the Macy's Thanksgiving Day Parade, which he calls "amazing experiences."
Hummerston says he developed a "great work ethic" by being involved in so many student-driven productions at JMU. "There was trust in the students and support for us to be creative, which caused us to push ourselves." Hummerston spent the summers of his sophomore and junior years at Papermill Theatre in Lincoln, New Hampshire, where he performed in The 25th Annual Putnam County Spelling Bee, The Mystery of Edwin Drood, and You're a Good Man, Charlie Brown.
Hummerston was the fourth person in his family to go to JMU. His father Glenn and mother Nancy graduated in 1976 and 1977, respectively, and his sister Kristen graduated in 2004. His family was in the house when he made his Broadway debut. "It's a night I will never forget, and I can't quite wrap my head around it sometimes."
Published: Friday, January 20, 2017
Last Updated: Wednesday, August 9, 2017