College of Visual and Performing Arts
Be the Change: Christopher Morales ('16)
---
By Jen Kulju (M'04)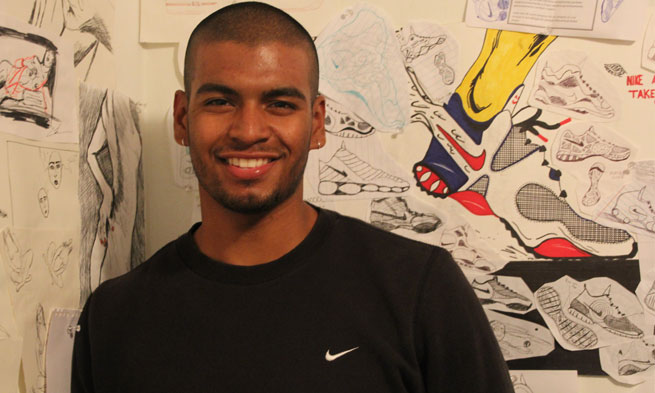 Christopher Morales has always been interested in shoes. When Morales got his first pair of "nice shoes," he says he held them in his hands, feeling the material, looking to see how they were made. When they became old, he cut them in half to see what was inside.
Morales grew up an athlete, playing baseball, soccer and football. In his spare time, he drew shoes. "There's nothing I'd rather do than draw a pair of sneakers," reveals Morales. That realization led to Morales' dream of working as a lead shoe designer for Nike®.
Pursuing that dream led Morales to JMU's Industrial Design program, where he is now a rising senior. According to Morales, the program's approach to problem solving involves risk-taking and empathy. "The whole design process requires walking in someone else's shoes to deliver a creative solution," declares Morales.
Morales had the opportunity to move one step closer to his dream by interning with Charlottesville-based OESH® Shoes, where he not only learned "the business side" of shoe manufacturing, but also had the chance to use the machines to cut materials.
With one year remaining at JMU, Morales is taking in all he can before applying for a post-graduate internship with Nike®. "I am learning how important every class is… What I learn in metals, I can use in my industrial design class, and what I learn in sculpture, I can apply to graphic design."
Beyond loving shoes and wanting to design them, Morales believes shoes can solve physical problems as well as social problems. From getting children "to pick up a shoe instead of a gun" to "making them want to play basketball instead of being on the streets," Morales is excited about the future of shoe design to change the world. 
Published: Tuesday, July 25, 2017
Last Updated: Wednesday, August 9, 2017