College of Visual and Performing Arts
Fifth Anniversary Season at the Forbes: Bruce and Lois Forbes Share Their Story
---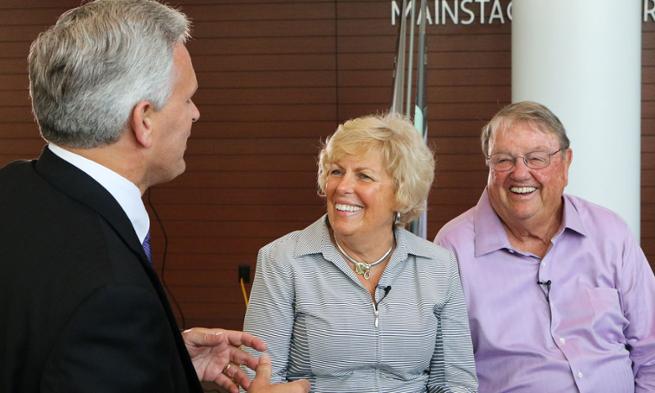 President Alger dropped by the Forbes Center to thank Bruce and Lois Forbes for sharing their story.
Bruce and Lois Cardarella Forbes ('64) did not grow up in the arts, but when JMU President Emeritus Linwood Rose and Charlie King, Senior Vice President of Administration and Finance, shared their vision for a new state-of-the-art performing arts center at JMU, the couple took the leap. "When we came through the university, the kids were practicing under steps, stairwells, any place and every place," recalls Mr. Forbes. "I told Lois, 'they need a place to play.'" 
Construction began on the new 90.5 million dollar performing arts center in February 2008 thanks to funding from the Virginia state legislature, Richard D. and Shirley Hanson Roberts ('56), Charles Edwin and Susan E. Estes, and a five million dollar gift—the largest in JMU history—from Mr. and Mrs. Forbes. "Construction was fun," shares Mrs. Forbes. "I enjoyed wearing a hard hat and wandering through all the different spaces."
Also donning hard hats were College of Visual and Performing Arts' administrators, Dean George Sparks and Associate Dean Marilou Johnson ('80), who oversaw everything from "the floors to the acoustics to the practice rooms." According to Mr. Forbes, "this building was so well planned. I have been around the development business for 30 to 40 years, and this particular building was built the best that I've ever been involved in or seen—in Washington, D.C. or here."
The Forbes Center officially opened its doors on June 4, 2010 for a building dedication and to honor major donors, an opening that Mrs. Forbes says "was fun and could not have been done any better." Since the opening, Mr. and Mrs. Forbes are "getting to see things they normally wouldn't get to see," such as Bobby McFerrin with the JMU Jazz Ensemble, JMU Children's Theatre performances, and all things musical theatre. "We both really like musical theatre," exclaims Mrs. Forbes. "The kids are so good that sometimes it's hard to believe that they aren't professionals."
It turns out that professionals and students alike have high praise for the Forbes Center, now in its fifth anniversary season. World-renowned pianist and guest artist Menahem Pressler is quoted as saying, "This is a wonderful thing, to think that James Madison University, right here in Virginia, has a facility that any place in the world would envy. It is so beautiful."
Dancer Carolyn Hoehner ('14) writes, "The Forbes Center is a springboard to my dreams ahead and future goals. It's a sweet memory of belonging and growth. We've all sweated and cried together so much in this building that we're a part of it – as it is a part of us." Mrs. Forbes reveals this last comment makes her "want to cry." "I don't know what could make anyone feel better."  
Community members and JMU faculty have also expressed gratitude to Mr. and Mrs. Forbes for their investment in the arts. "On the golf course, in the city, when I go to the dental or doctor's office, people always thank me," says Mr. Forbes. Mrs. Forbes adds, "Professors would come up and thank me at Board of Visitor meetings even though they might have thanked me at the last meeting. It's just incredible. I thought we would give the money, the building would be built, and that would be the end of it. I never expected the constant thanks and how many lives we seemed to have touched."
Mr. Forbes agrees. "I'm glad we did it. It's one of the best moves we've ever made."
To give to the arts, please visit http://www.jmu.edu/forbescenter/give. Buying a seatback or making a bequest can "make a world of difference to students and scholarships," according to Mrs. Forbes. Giving also stands to benefit a future generation of artists who enjoy Forbes Center productions and guest artist outreach efforts.
By Jen Kulju (M'04)
Thanks to Bruce and Lois Forbes' generous gift to the arts, I have had the opportunity to promote the Forbes Center for the Performing Arts as the PR Coordinator since it opened. Promoting the Center and the talent it possesses has given me a purpose I could have never dreamed of for my work life.
Published: Tuesday, July 25, 2017
Last Updated: Wednesday, August 9, 2017