College of Visual and Performing Arts
Faculty Feature: Dr. Robert McCashin
---
Orchestra Director Wins CVPA Distinguished Teacher Award
By Jen Kulju (M'04)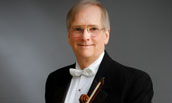 A descendent of the Madison family (of James Madison's sister, Frances Taylor Madison), Robert McCashin recently received the 2015-2016 College of Visual and Performing Arts Distinguished Teacher Award. When McCashin came to JMU for his interview in 1992, the orchestra he rehearsed was fewer than 40 players. The number of musicians has almost doubled during McCashin's 23-year tenure as Director of Orchestras—but the story doesn't stop there. McCashin has grown the Symphony to one of the finest collegiate orchestras in the Mid-Atlantic region.
That level of development doesn't come without hard work and a lot of thought. For the first 20 years, McCashin would research anywhere from 200 to 300 orchestral works (scores and recordings) each summer to help him determine future programming. Each year he would prepare multiple repertoire scenarios with varying degrees of difficulty. After assessing the level of the orchestra, he would make a decision on which plan to pursue. According to McCashin, "you go through periods where you really push the limits of the ensemble for one to three years—and then you take a year and let it consolidate."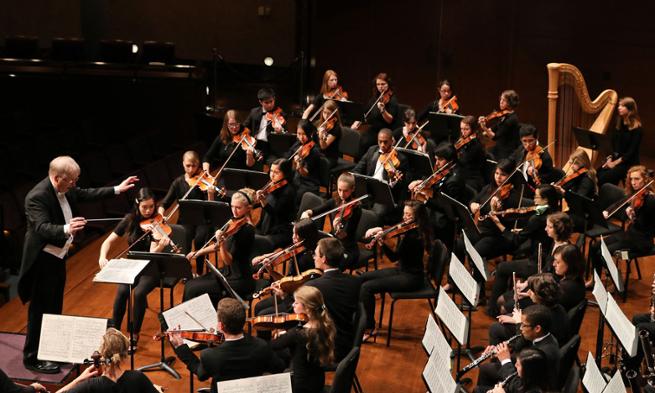 Evaluation "in the moment" seems to be an integral ingredient for a successful conductor. McCashin says that the Symphony has a different "collective personality" each rehearsal and tells his graduate conductors, "You've got to be able to go in the room and read where a group is in the first two minutes of the rehearsal … and figure out how you're going to accomplish what you want to accomplish that day."
"Every time I get in front of the Orchestra, it's a highlight."
McCashin, who enjoys working with JMU's "quality students," strives to offer "good musicianship, good guidance and good instruction." He says he is fed by watching students evolve and stresses the importance of establishing a collegial, but professional relationship with them. "A lot of students just come into my office, and we have conversations, but when it's time for business, we get the work done," says McCashin.
Collaboration between the Symphony and choral area is enjoyable to McCashin. Jo-Anne van der Vat-Chromy, Director of Choral Activities at JMU, says McCashin's "dedication to programming shared masterworks ensures that all music students benefit from performing and hearing repertoire that simply cannot be presented by one area alone." "This kind of collaborative spirit is indeed rare, and models a way of working together in music that deeply enriches student academic experiences."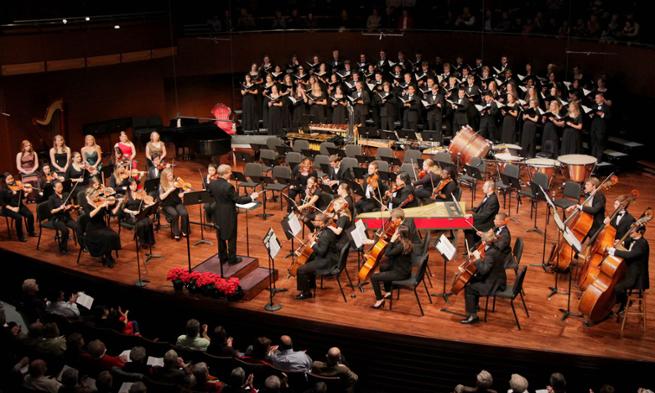 Now in his 42nd year of teaching at the college level, McCashin taught at the University of Texas at Arlington and Texas Wesleyan University prior to coming to JMU. He began playing the violin at age 11 and landed a position with the Chattanooga Symphony Orchestra at age 16. He grew up singing in choirs at church, and was in the top graduate a cappella choir at Louisiana State University as an undergraduate. He met his wife "Charlie," also a violinist, at LSU.
The Symphony Orchestra performs at the Forbes Center for the Performing Arts on February 22 @ 8 pm in the Concert Hall, and with the JMU Chorale in the Symphony Honors Concert on April 19 @ 2 pm in the Concert Hall. Visit www.jmuforbescenter.com for ticket information.
Published: Tuesday, July 25, 2017
Last Updated: Wednesday, August 9, 2017