College of Visual and Performing Arts
How is Your "Inner Game?" Author Barry Green Speaks to JMU Music Students
---
By Danyel Reid (M'16)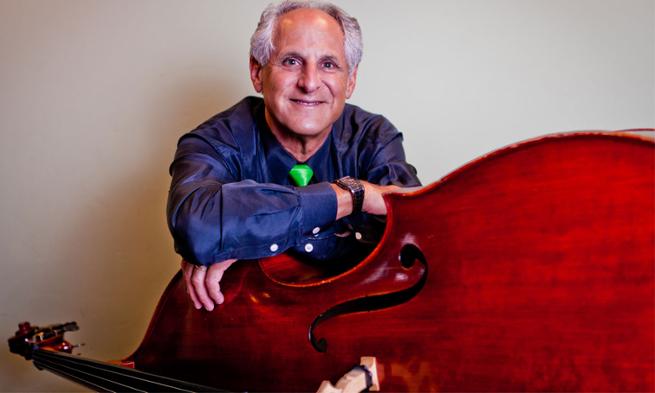 Have you ever performed in front of a crowd while you were in complete and utter fear that you would fail? Better yet, have you forgotten the lyrics to a song or played a wrong note on your instrument in a performance? Most musicians can relate to these questions—and it's these types of questions that author Barry Green addresses in his book The Inner Game of Music (1986).
Green spoke to music students at James Madison University about The Inner Game of Music, which he wrote with Timothy Gallwey, the author of the international bestseller The Inner Game of Tennis. The Inner Game of Tennis gives advice to tennis players on how to overcome mental blocks; The Inner Game of Music uses a similar approach, but was made relevant to musicians.
Green conducted a number of workshops during his time at JMU. He opened one of these workshops by playing a rap song that he had made and had a street artist perform. The lyrics described the everyday stresses a musician goes through, including fears about memorization, articulation, phrasing and intonation. He went on to define the "inner game" as a game in the mind where musicians constantly battle to overcome their fears. He talked about the principles of awareness, commitment and trust in helping musicians to overcome their fears, and how each of the three maintains a relationship with visuals, sounds, feelings and what we know as musicians.
Green employed three music students to illustrate these principles. Green had cellist Josh Meyers play an excerpt from Suite for Unaccompanied Cello in E-flat Major, Bourrées I and II by J.S. Bach. Afterwards, Green asked Meyers what he wanted to improve upon; Meyers responded that he wanted to notice the difference between the two voices on the cello. Green had Meyers play the excerpt again, this time focusing on this one point. It took Meyers two attempts to achieve his goal, demonstrating what a greater sense of awareness can do.
JMU student Krystal Ankerbrand then performed a snippet from Sonata in E Minor for flute and keyboard, BWV 1034 by J. S. Bach, accompanied by fellow student Tracey Reed. After playing, Ankerbrand noted that she wanted to be more consistent with her rhythmic subdivisions. Green asked her how she would achieve this goal, and she responded that she would "make the notes equal, crisp and shorter." Ankerbrand played the snippet again and achieved her goal. Green used this point to illustrate the importance of committing to a piece before playing it.  
Green's final demonstration was an example of trust with pianist Scott Koven, who played Robert Schumann's Fantasiestücke Op.12-Grillen (Whims). Before Koven performed, Green showed a cartoon image of a cheetah running alongside a man. He asked the audience what qualities a cheetah possesses. Responses included "fast, agile and streamlined," natural traits of a cheetah. Green used this metaphor to explain that musicians should play music as if born with the skills to do so.
He proceeded to show two clips from 25 years ago where he had visited a professional and high school orchestra. He had appeared in each video and had asked each orchestra to envision the music in a way different from just the notes on the page. The results were remarkable because both ensembles improved in a short amount of time. He tasked Koven to use this same idea of mental visualization by asking him to sing the melody while he played. Green told him to "let your vocal voice lead your hand." Once he did, it freed up the rhythm in his body.
Performing music is a combination of physical and mental practice. Musicians drilling scales on their instruments in a practice room demonstrates the physical side of music. However, by becoming conscious of the mind through the principles of awareness, commitment and trust, musicians can be more effective and efficient.
Published: Tuesday, July 25, 2017
Last Updated: Wednesday, August 9, 2017