College of Visual and Performing Arts
An Interview with Broadway Superstar Aurelia Williams
---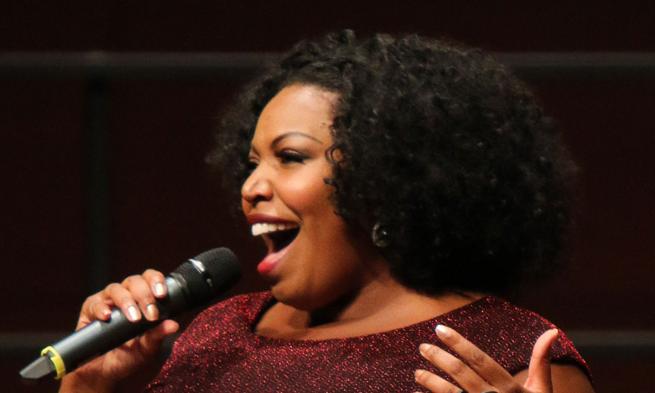 By Danyel Reid (M'16)
Many people begin with a specific major in mind for their college career. However, dreams can change and blossom into something unimaginable. Such was the case for the charming, Broadway soprano Aurelia Williams. As a guest of the JMU School of Music, she instilled an immense amount of passion and knowledge into future performers at the university.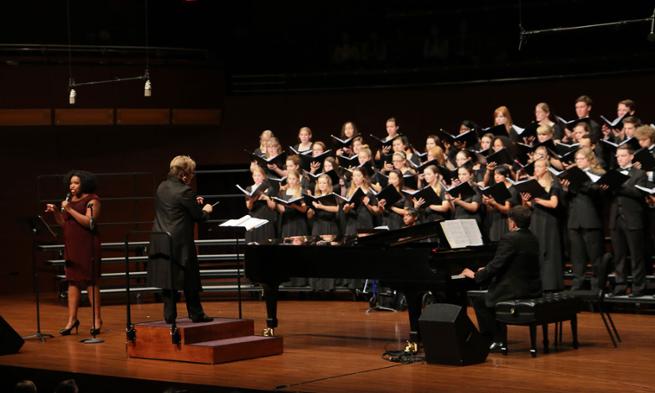 Broadway sensation Aurelia Williams performs with the JMU Chorale.
I had the great pleasure of meeting with Williams for a 30-minute interview before joining her on stage with the University Chorale and the Morgan State University Choir for the event Fusion: Poetry Voiced in Song. We began the interview with some background knowledge of how her career took off. I learned that she initially wanted to be a teacher until a friend recommended that she audition for shows. This life-changing recommendation is now the reason she has Broadway and Off-Broadway credits under her belt such as Sistas the Musical (2011), Madagascar Live! (2011), All Shook Up (2006) and If You Give a Mouse a Cookie and Other Storybooks (2006). When I asked about her education in musical theatre, she told me "she learned the ropes along the way." She also revealed to me that a turning point in her life was when she developed acid reflux. Once she was diagnosed, she learned how to manage and shield her voice from harm, which is an essential lesson amateur and professional singers should learn in order to have a sustaining career.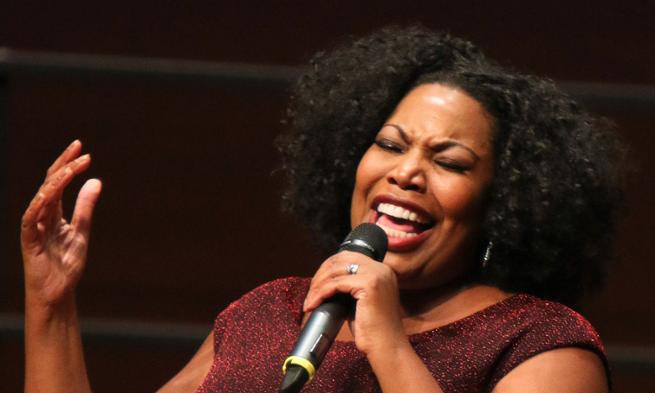 As our interview continued, we had several moments of laughter. One of the most memorable moments in our interview was when I asked her how she handles drama in the world of entertainment. Her advice was to "float" above the chaos surrounding her in the music industry. I also asked about networking with others. She said that it was important to get to know composers and writers from the onset of a project. This bonding leads to a family-based feeling and can result in future project opportunities. Her advice was an enlightening revelation from someone who has gained so much experience outside a university setting. However, she did tell me that education is important because it sets a foundation for learning.
As our interview extended past the original time I was promised, I realized how blessed I was to be in the presence of such a caring individual. During the master class earlier in the day, her advice for each performer was to tell a story. She elaborated on this point even further by admitting to me that her voice was not at 100 percent due to a cold. I immediately was able to relate due to a chronic medical condition that had caught me by surprise during the day as well. However, she told me to think about the story my fellow chorale members would be telling the audience. Her point was to focus on the lyrics that brought attention to the racial injustice suffered by our African American ancestors. Her piece of wisdom allowed me to reflect on how much we have to be thankful for, and I transferred her positive energy into my performance.
Published: Tuesday, July 25, 2017
Last Updated: Wednesday, August 9, 2017