College of Visual and Performing Arts
2015 Arts Grads Land Jobs and Internships, Pursue Advanced Studies
---
By Jen Kulju (M'04)
Liz Connor, Christian ("Josh") Myers, Mary Lowman and Marion Grey graduated with degrees in the visual and performing arts this past May. From full-time jobs to summer internships to advanced study, these recent arts alum are making their way in the world!

Liz Connor
Liz Connor returned to her home state of Florida after graduating with a double major in art history and modern foreign languages, with a concentration in Spanish. Connor began her first year as a biology major, but switched her sophomore year. After making the change, she interned with the Sawhill Gallery/Duke Hall Gallery of Fine Art for two years. She volunteered as a writer with the College of Visual and Performing Arts PR/Marketing office for one semester. A work-study program with art history professor Dr. Maureen Shanahan allowed Connor to further her understanding of Spanish and art history.
Connor accepted a job as an art consultant with Cutter & Cutter Fine Art Galleries in St. Augustine, Florida, about 45 minutes from where she grew up in Jacksonville. Hired with the belief that she could sell art and establish relationships, Connor will work primarily with collectors, and European and American art from the 19th century to modern day. She will also work with artists and may even have the chance to put her Spanish skills to use. Connor is excited "to see the transition between artists creating the artwork, getting it into the gallery, and then selling it to collectors and seeing it in their homes!"
Christian ("Josh") Myers
Josh Myers will attend the University of Virginia School of Law in the fall after graduating with a double major in political science and music performance. Myers says the presenting skills he learned in music, such as delivering a performance with confidence and responding "on the fly," will help him in his quest to become a successful lawyer one day.
Myers grew up near Columbia, South Carolina, where he attended the South Carolina Governor's School for the Arts and Humanities in 11th and 12th grades. It was there that he developed an interest for arts and public service—and the desire to pursue these paths. While at JMU, Myers played the cello in the Symphony Orchestra for four years, and also participated in various string chamber music quartets and quintets. Outside the classroom, he worked on Capitol Hill, served on several political campaigns, and interned with Americans for the Arts, a non-profit organization dedicated to advancing the arts in America. Myers says both the music and political sciences programs at JMU encourage students to delve into public service outside of the classroom—and he can't wait to get involved in UVA's extensive public service program!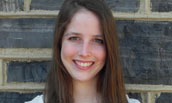 Mary Lowman
Mary Lowman is from Richmond, Virginia, and graduated with a bachelor's degree in theatre and dance, with a dance concentration. She was involved in a number of productions during her time at JMU. As a member of the Contemporary Dance Ensemble, she performed in New Voices in Dance her junior and senior year. She worked on New Voices behind-the-scenes her freshman through senior years, as the sound board operator, assistant stage manager and stage manager. She served as the assistant stage manager and stage manager for Dancescapes her junior and senior year.  
Lowman enjoys working backstage and performing—especially Butoh. She traveled to Japan last summer for a dance intensive with Dairakudakan, and hopes to continue her love for Butoh following graduation. Lowman accepted a summer internship with the American Dance Festival in Durham, N.C., where she will work in production and takes classes with professional dance companies including Paul Taylor Dance Company, Pilobolus, and Doug Varone and Dancers.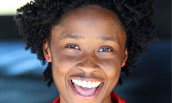 Marion Grey 
Marion Grey hails from Roanoke, Virginia, and graduated with a bachelor's degree in theatre and dance, with a theatre concentration. During her four years as a Centennial Scholar at JMU, Grey acted in a number of shows including The Horribly Long Trip of Edgar Allen Poe (Ensemble, Madeline), R.U.R. (Rossum's University Robots) (Dr. Helman), The Red Coat (Mary), Spring Awakening (Ensemble), Romeo and Juliet (Servant, Ensemble), ALL SHOOK UP (Sylvia), The Trojan Women (Helen), Classifilied (Ensemble), Clybourne Park (Francine and Lena), Machinal (Lawyer for the Defense), and Cinderella (Fairy Godmother Superior) with the Playshop Players for JMU's Children's Theatre.
In June, Grey started an 11-month contract with National Players with Olney Theatre in Maryland. Now in its 67th year, National Players is the longest running touring company in the U.S. Grey will travel to middle schools, high schools, colleges and community theatres from "Vermont to Texas" to perform A Tale of Two Cities, A Midsummer Night's Dream and Julius Caesar. As one of 10 chosen by the company for the 2015-2016 Season, Grey will also help to do "everything off-stage and backstage." She is excited about having a job she is excited about! Check out her July write-up in The Washington Post!
Published: Tuesday, July 25, 2017
Last Updated: Wednesday, August 9, 2017