College of Visual and Performing Arts
Art History Classes Take to the Road: Museum Field Trips Expand Student Learning
---
By Liz Connor ('15)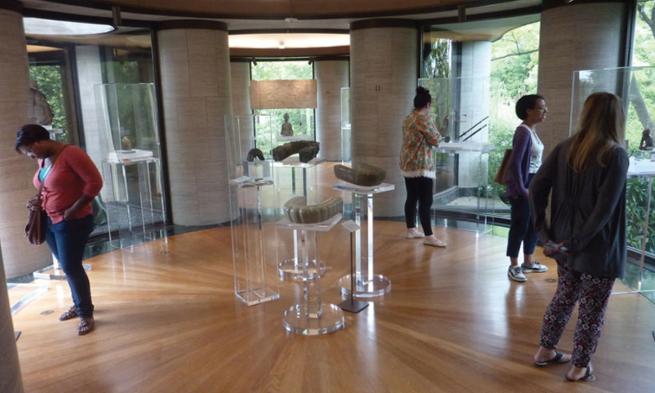 Professors of art history at James Madison University are exploring Virginia's art museums with students. Dr. Aderonke Adesanya and Dr. John Ott are the most recent professors to offer students the opportunity to see art in real life.
Adesanya took her Sub-Saharan African Art students to the Virginia Museum of Fine Arts (VMFA) for an exhibition by South African artist Esther Mahlangu in September. This trip was unique because the students were able to observe Mahlangu painting murals during their tour of African Art.
The visit to the VMFA was not on the syllabus at the beginning of this semester, but Adesanya believed it was important enough to add to the schedule. The "once-in-a-lifetime experience" offered students the chance to learn from a guided tour by a museum expert and see live art production. "Seeing art in 3-D allows for a better perception of scale, texture and feeling that a projection screen cannot provide," shares Adesanya.
"The experience was inspiring as an artist and art historian," says Danielle Lewandowski, a senior art history major. "I am positive the trip will have long lasting impact on my perception of African art."
Ott also aims to compliment his teaching by visiting museums. He believes that physically interacting with art provides a "deeper connection to the pieces," and takes all of his 300 and 400 level classes on at least one trip per semester. In September, Ott and his Prehispanic Mesoamerica class traveled to Washington, D.C. to visit the Robert Woods Bliss Collection of Pre-Columbian Art at Dumbarton Oaks and the Cerámica de los Ancestros: Central America's Past Revealed exhibition at The National Museum of the American Indian.
According to senior art history major Madeline Stanley, "the experience of going to museums allows the class to learn from a different dimension and see firsthand what Dr. Ott teaches in class."
In his Museum Studies class, Ott strives to display how his lecture is applied in the context of real museum practices. "I encourage my students to focus on how museums present artwork, as well as other museum functions like curating, insuring and art protection." Ott adds that these aspects of museums involve "a diverse background in business knowledge, legal expertise and scientific ability." He hopes to inspire his students' passions for art into thriving careers.
Both Dr. Adesanya and Dr. Ott hope students will develop a stronger relationship and appreciation for art through these experiences while exploring multiple facets of the art world. 
Published: Sunday, January 1, 2017
Last Updated: Wednesday, August 9, 2017