College of Visual and Performing Arts
JMU Theatre Students Make Fun of Theatre in Crazy Comedy
---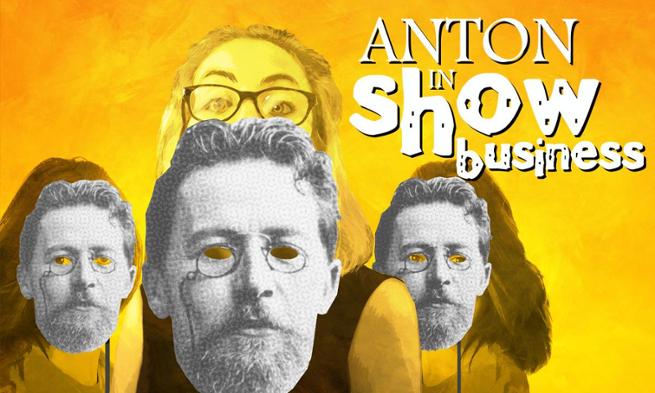 Audiences attending the James Madison University School of Theatre and Dance's Anton in Show Business can expect to see theatre students making fun of themselves and their chosen craft in a comedy full of theatrical surprises and more than two dozen set changes. This fast-paced production follows the joys, pains and absurdities of three actresses cast in Anton Chekhov's Three Sisters at a regional theatre in San Antonio, Texas.
The "three sisters," Holly, Lisabette and Casey, are played by junior Emily Hinz, senior Chrissy Johnson and senior Katherine Lyle, respectively, in an all-female cast of seven theatre and musical theatre majors. The play takes audiences on a wild, behind-the-scenes journey from auditions through opening night, while also shedding light on the state of American theatre.
"Theatre is becoming flooded with women, so it is difficult for them to get roles," says JMU faculty director Ingrid De Santis. This story speaks to empowering women—and to theatre artists in general, who fight to survive in a profession that struggles to attract audiences and rally support. Despite the low pay and challenges that come with a career in theatre, De Sanctis says, "people love it so much that they give up a lot to do it."
Those "people" include De Sanctis and the rest of the artistic staff of Anton in Show Business: JMU faculty member John Burgess (Set Design) and JMU alumni Lizzie Donelan (Costume Design) and Stephanie Freed (Lighting Design).
Dubbed "funny, smart, wry and poignant" by the Miami Herald, Anton in Show Business by Jane Martin takes place Tuesday-Saturday, September 29-October 3 @ 8 pm and Sunday, October 4 at 2 pm at the Forbes Center for the Performing Arts.
Tickets are $14-$15.  For tickets, visit www.jmuforbescenter.com or call the Forbes Center Box Office at (540) 568-7000. 
Adult language and content. ANTON IN SHOW BUSINESS is produced by special arrangement with SAMUEL FRENCH, INC.
Anton in Show Business Cast
| | |
| --- | --- |
| T-Anne, Andwyneth, Don Blount | Nora Ogunleye         |
| Lisabette | Chrissy Johnson       |
| Casey | Katherine Lyle         |
| Kate, Ben, Jackey | Amy Slothower       |
| Ralph, Wikewitch, Joe Bob | Jamie Walters         |
| Holly | Emily Hinz             |
| Joby | Bea Owens  |
Published: Sunday, January 1, 2017
Last Updated: Wednesday, August 9, 2017