College of Visual and Performing Arts
2015 JMU Valedictorian Shares Memories, Recipe for Success
---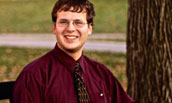 By Jen Kulju (M'04)
"Keep working hard, but never forget to enjoy what you're doing," was Anthony Poehailos' take-home message at the College of Visual and Performing Arts Commencement Ceremony this past May. Poehailos, who majored in music education while at JMU, graduated at the top of his class and was also the "Outstanding Graduating Student" in the School of Music for 2015.
According to Poehailos, having fun with what you do is particularly important for artists, who "tend to get burned out from trying to achieve perfection." While Poehailos had a nearly perfect G.P.A., he doesn't equate his success to turning in "perfect" homework, but rather to getting enough rest. "It is important to get your homework done, but I always made sure to get a good night's sleep."
Discipline and effective time management skills permitted Poehailos to participate in a number of music activities during his time at JMU. He was a member of the Marching Royal Dukes (MRDs) for four years, where he served as the leader of the clarinet section for three years, a member of the Wind Symphony for four years, where he acted as principal clarinetist for one semester, and a member of the Symphony Orchestra for two-and-a-half years. Poehailos was also a member of the Symphonic Band and played in a woodwind quintet with a couple of friends.  
Highlights of Poehailos' JMU experience include marching with the MRDs in the Macy's Thanksgiving Day Parade ® in 2013 and in the New Year's Parade in Rome in 2015. "It was humbling and wonderful to be a part of bringing JMU to national and international audiences."
Poehailos credits Scott Rikkers, director of the MRDs, as one of a few faculty members (along with Dr. Janice L. Minor and Dr. Stephen Bolstad) who most closely influenced his views on music and music education. "We're focused not just on making students better musicians, but making them better people," shares Poehailos.
Another high point for Poehailos came in 2014 when the Symphony Orchestra performed Carmina Burana at the National Presbyterian Church in Washington, D.C. "My favorite moments were those where we went outside of JMU and got to show audiences what we in the School of Music and at the university could do."
In addition to performing and studying, Poehailos was involved in the JMU Catholic Campus Ministry for a couple of years, and was also a member of the Kappa Kappa Psi band fraternity, where he had the opportunity to "be involved with music in a service-oriented realm." Helping to set up for performances at football games and for the annual Pops Concert during JMU Family Weekend at the Convocation Center in the fall allowed Poehailos to "give back to the music community and to JMU at large."
Giving back through teaching—either in the public school system or as a private instructor—is on Poehailos' career radar. "I want to be able to pass on music to the next generation and to help them grow as individuals through music." Before returning to his music ed roots for full-time employment, however, Poehailos will head to Penn State in the fall to pursue a master's degree in music performance.
Published: Sunday, January 1, 2017
Last Updated: Wednesday, August 9, 2017