College of Visual and Performing Arts Stories
School of Music Performers Take to the Road for JMU President's D.C. Gala Showcase Concert
---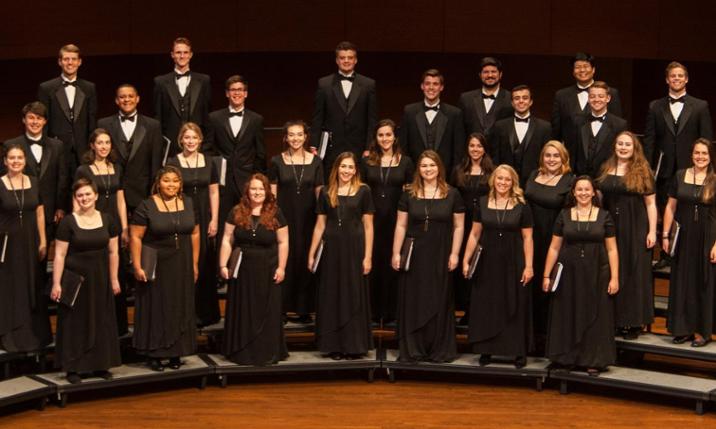 By Jen Kulju ('04M)
February 9, 2018 – James Madison University School of Music student and faculty performers will take to the road for a gala showcase concert hosted by JMU President Jonathan Alger at National Presbyterian Church (NPC) in Washington, D.C., on Sunday, February 18 @ 4 pm.
Now in its fourth year, the JMU Showcase Concert Series at NPC began in 2014 with a special presentation by The Madison Singers at NPC's Sunday services, followed by an afternoon presentation by the JMU Chorale and Symphony Orchestra of Carl Orff's Carmina Burana. The JMU Symphony Orchestra, combined choirs and graduate soloists returned to NPC to present selections from Mendelssohn's Elijah in 2016 and Brahms' Song of Destiny in 2017.
Highlighting all manner of chamber music, this year's concert features solo faculty artists as well as a variety of instrumental and choral ensembles. The program includes The Madison Singers and JMU Chorale, the Monticello Strings, the "side-by-side" faculty and student string ensemble at JMU, several student chamber ensembles, and offerings by JMU woodwind and piano faculty. "This chamber music program promises to be rich and varied, a true mirror of everyday life in the JMU School of Music," says Dr. Jo-Anne van der Vat-Chromy (Dr. V.), director of choral activities.
"I think it is a wonderful opportunity for us to showcase the talent, the programs and the arts at JMU—especially music in this case—in a place where we have thousands of students, parents and alumni," shares President Alger.
Senior Kathryn Bailey, a mezzo-soprano in The Madison Singers, and sophomore Kate Gibson, a soprano in the JMU Chorale, are both vocal music education majors from Northern Virginia who are eager to return to the area to perform. Bailey sang at the NPC as a member of the Treble Chamber Choir in 2016 and Chorale in 2016 and 2017, and Gibson will sing for the first time this year as a member of the Chorale. "I'm excited to experience [performing at] another venue," exclaims Gibson, whose parents are "definitely coming."
Bailey, whose D.C. friends plan to come hear her sing, is looking forward to singing War and Peace by contemporary Swiss composer Ivo Antognini with the combined choirs in "such a beautiful church." "There are a lot of cool chords in the pieces, and they are going to be amplified and sound great in the space," says Bailey.
According to Dr. V., the two pieces are a preview for the combined choirs' appearance with the JMU Symphony Orchestra and Governor's School of the Arts in Norfolk, Virginia, in Gustav Mahler's Resurrection Symphony at the Forbes Center in April. The a cappella choral pieces will also feature JMU faculty oboist Jeanette Zyko as soloist.
"It's a great opportunity for people to see JMU faculty and students in a different setting… to see what they're working on, what they're capable of, and how they work together," says Alger, who has sung at the NPC many times—both as a member of the National Singers and as a member of The Choral Arts Society of Washington. Alger knows "what a thrill it is to perform there."
Alger has other meaningful ties to NPC. He met his wife Mary Ann in Sunday School at NPC, and they were married there. They were both members; he was an ordained elder while she was on the Board of Trustees. Their daughter Eleanor was also baptized at the church. "It is a place that means a great deal to us"—and "one of the truly magnificent churches in Washington. The acoustics are terrific." Dr. V. adds, "The sound is intimate, yet expansive, a delight to sing in. It is a perfect venue for chamber music."
A reception follows for those who attend the concert. The event is free and open to the public. Ample parking is available. The Madison Singers will also perform in the 11 am NPC service.
Published: Friday, February 9, 2018
Last Updated: Wednesday, February 21, 2018