College of Visual and Performing Arts
Lisanby Scholar Series
---
SUMMARY: Eight freshmen are pursuing an education in the arts thanks to Lisanby Scholarships.
---
Joshua Ballinger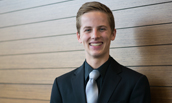 Growing up in Leesburg, Virginia, Joshua Ballinger started playing piano in the first grade. In the sixth grade, he picked up a bassoon and something "was different." "I was really excited about bassoon," recalls Ballinger, now a freshman music education major at JMU whose instrument is the bassoon. Ballinger also plays the baritone as a member of the Marching Royal Dukes and as a member of the Boston Crusaders Drum and Bugle Corps.
"A long-term dream of mine was to earn a position with a world-class drum corps, and I was able to work toward and achieve that goal partially because the Lisanby Scholarship allowed me to focus on what I wanted to do versus having to spend my time and energy financing my education," says a grateful Ballinger. Ballinger lives on East Campus, where he often sees the Lisanby Museum and is reminded of Mrs. [Gladys] Lisanby's generosity. "It's humbling to know that she is so invested in my success and cares so deeply about the arts at JMU."
Manoa Bell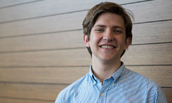 Manoa Bell's parents sensed he would be a musician before he was even born. At age four—and after five years on the waitlist, Bell started the "String Project" at the University of Texas' Butler School of Music, where he learned to play the cello. He continued on that instrument until he moved to Norfolk, Virginia, at age 10; he was musically so far ahead of his peers in the school that he was asked to pick up another instrument. "The logical choice was bass because it is similar to the cello. So, I started playing bass and fell in love with it."
After playing in four different community, professional and school-related orchestras in high school, Bell decided to attend JMU after receiving a Lisanby Scholarship. "JMU was of high interest to me, so the scholarship means a lot. It's such a gift, and I'm so thankful," shares Bell, who had the opportunity to meet Mrs. [Gladys] Lisanby at an October 2016 luncheon to honor the Lisanby Scholars. "It was nice to talk with Mrs. Lisanby. She's connected to Norfolk—where I'm from—so we knew some of the same people." Bell is now a freshman music industry major at James Madison, where he plays the double bass and performs with the JMU Symphony Orchestra.
Madison Dalton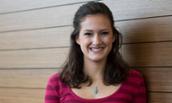 Freshman art history major Madison Dalton says that receiving a Lisanby Scholarship was the deciding factor in choosing James Madison for college. "Art history is a unique niche, and the scholarship allowed for opportunities I wouldn't have had at other universities." Living in a community of artists at Wayland Hall is one of those opportunities, according to Dalton. "It's powerful to be in an environment that inspires you and where you help to inspire others … and you're feeding off of each other's creative energy."
Dalton's creative energy is further fed by her internship at JMU's Madison Art Collection. In high school, Dalton was a part of the Museum Leaders in Training program at the Virginia Museum of Fine Art, where her parents (both active in the arts) took her when she was younger. Dalton's time at the VMFA prepared her well for the MAC, where she does research on artists of her choice and explores "all the different galleries on campus." "I have seen Mrs. [Gladys] Lisanby's portrait in the Lisanby Museum … and am thankful for the opportunities she has provided for me and my peers."
Jordan Foster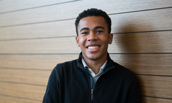 Richmond native Jordan Foster was choosing between two colleges, but made the decision to attend JMU after landing a Lisanby Scholarship. "I was really honored because college was a struggle for my family financially." Foster started dancing hip-hip in middle school and began ballet his sophomore year of high school. When forced with a choice his senior year on what to do next with his life, he decided to move forward with what he loved to do: DANCE!
Now a freshman dance major in the Associate Group Dance Ensemble, Foster lives in Wayland Hall amongst his arts peers. "It's pretty amazing to see everyone's different ideas and creativity. We can all get new ideas from each other, and it's fun." Foster enjoyed meeting Mrs. [Gladys] Lisanby to "thank her and tell her how appreciative my family and I are for her."
Peyton Kennedy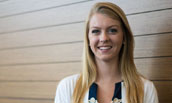 Peyton Kennedy from Basking Ridge, New Jersey, says that being offered a Lisanby Scholarship "tipped the scales" for her to come to JMU. "It also made me feel confident that I would be able to be part of a community where I could have a presence in the arts program." Now a freshman theatre major, Kennedy is getting the opportunity to pursue a passion she has held since age six. "Theatre is what I knew I wanted to study in college and do for a profession, and that hasn't wavered over the years."
Kennedy lives in Wayland Hall amongst other students who share a passion for the arts, which she finds inspiring. "Everyone has a common interest and is striving for a career in the arts, so it pushes me to work harder … and allows for easy and enjoyable collaboration." Kennedy says that having the chance to thank Mrs. [Gladys] Lisanby in person for her generosity was "just amazing."
Laura Ruple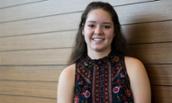 Homegrown from Harrisonburg, Virginia, Laura Ruple grew up with close ties to JMU. Her dad, Dr. Eric Ruple, is a faculty pianist who had been her accompanist through her senior year of high school—first for the violin and then for the oboe. Laura is now a freshman at JMU double majoring in oboe performance and justice studies. "I think I was created to be a professional musician, and I feel like I need to become more educated in how I can help the world," says Laura of her two majors.
The Lisanby Scholarship was a "big reason" Laura decided to come to James Madison, along with new oboe professor Dr. Jeanette Zyko. Laura is also happy to have her dad close by. "He's helped me a ton, and even now, I send him recordings of my music. Every goal I have in life is to be what he is…"
Taylor Sarlo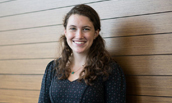 Growing up in Fairfax, Virginia, Taylor Sarlo says art had always been her favorite subject in school. While she wasn't a huge fan of history in and of itself, she took an art history class as a junior in high school and "loved it." "Art is a language for me to understand history better," shares Sarlo, whose passion for art history was further fueled by a seminar she took at the National Gallery of Art her junior year as well as independent study in various art history topics her senior year.
JMU was Sarlo's "first choice" for college, so receiving a Lisanby Scholarship was "really nice." "I was happy to get in and know I had been offered something special as well." Now a freshman art history major at JMU, Sarlo enjoyed the opportunity to meet the other Lisanby Scholars and "those supporting her efforts," including Mrs. [Gladys] Lisanby.
Jordan Wright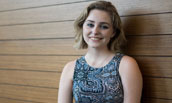 Jordan Wright was in the fifth grade when she was asked on Instrument Day to play a "big, weird instrument" on her shoulder. That instrument was the viola, and she "immediately fell in love with it." In the ninth grade, Wright began tutoring younger students and developed an interest in studying music education. That same year, she visited JMU for the first time, where she participated in Spring String Thing. In coming back for other events, she "saw how people greeted each other in the hallway like they knew each other forever" and thought, "This is the place for me."
Now a freshman music education major at JMU, lives in Wayland Hall and feels right at home. Moving from London, England, to Northern Virginia when she was young, Wright says she used to have to "fake an American accent" to avoid being bullied. At JMU, she says she is able to be herself —and that it means so much to finally feel accepted. Wright says it also means so much to have been named a Lisanby Scholar. "I am quite hard on myself, so getting a Lisanby Scholarship validated that I'm good at my craft and that I'm appreciated. It also alleviated the financial burden of going to college."
Published: Monday, March 13, 2017
Last Updated: Wednesday, January 2, 2019