College of Visual and Performing Arts
2015-2016 Arts Grads Secure Jobs, Pursue Advanced Studies
---
By Jen Kulju (M'04)
Sam Brackley, Taylor Huff, Donald Lee III and Lexie Thrash graduated with degrees in the visual and performing arts during the 2015-2016 school year. From full-time jobs to contract work to advanced study, these recent arts alums are surging ahead in the world!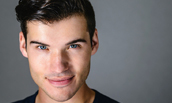 Sam Brackley 
Sam Brackley hails from Richmond, Virginia, and graduated with a bachelor's degree in theatre and dance, with a musical theatre concentration. During his four years at JMU, Brackley acted in a number of shows, including Sylvia, Godspell, All Shook Up, Gone Missing, Assassins, Sweet Charity, Avenue Q, Dogfight, The Wild Party, and Cabaret, where he played Emcee—his "total dream role." Brackley especially enjoys "making people laugh" in comedic roles and says he is a storyteller at heart. He believes JMU's musical theatre program provided him with "a conservatory education with the complete college experience."
In May, Brackley was asked to audition for La Cage aux Folles at the Tony Award-winning Signature Theatre located near Washington, D.C. Brackley was cast as part of the chorus line (Les Cagelles) in the musical, which debuted on Broadway on 1983 and won six Tonys. Brackley spent seven hours a day for four weeks rehearsing choreography in heels and had the opportunity to work with Broadway veterans like Brent Barrett and Bobby Smith.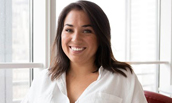 Taylor Huff
Taylor Huff returned to the Northeast after graduating with a B.F.A. in graphic design in December 2015. Originally from a small town at the Jersey Shore, Huff moved to the "Big Apple" after JMU, and is now a junior graphic designer with T Brand Studio, the brand marketing unit of The New York Times. Huff enjoys problem solving each day with a team of over 60 people, including illustrators, editors, photo leads, and clients, to find design solutions that strike a balance between client objectives and creative exploration.
Huff believes communication is her strong suit and that JMU's design program prepared her to speak for her own work and "articulate the 'why'" of her design within a group setting. While at JMU, Huff worked as a design and photography intern at the Duke Hall Gallery of Fine Art for three years. She was also a member of the JMU sorority chapter of Alpha Sigma Alpha. Huff ultimately landed her job at The Times by networking, and stresses that companies look to hire "a person, not just a portfolio."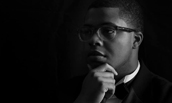 Donald Lee III
When Donald Lee III arrived at JMU, he set the goal of setting himself up to get into a conservatory for graduate school, hopefully with a scholarship. He did just that. Lee got a full-ride to the Cincinnati College-Conservatory of Music (University of Cincinnati), where he will spend two years pursuing an M.M. in piano performance starting this fall. He will study with Awadagin Pratt, who shares his passion for Germanic repertoire by composers like Schubert, Beethoven, and Liszt (Lee's favorite). Lee studied with Dr. Eric Ruple at JMU, where he earned a B.M. in piano performance on partial scholarship. Lee was named the prestigious Pressler Scholar for his senior year.
Lee began taking piano lessons at age 5 in Hampton, Virginia, and stayed with the same teacher until he came to JMU. Lee's basic skills, fundamental understanding, and love for music were honed and nurtured at James Madison. Lee says JMU provided him with "the perfect environment to incubate and thrive," with "warmth and love so integral to music-making." Lee spent his summer before graduate school performing and taking lessons and master classes at the Eastern Music Festival in Greensboro, North Carolina, and at the Art of the Piano festival in Cincinnati, having obtained full scholarships to both.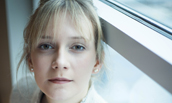 Lexie Thrash
Lexie Thrash is from Frederick, Maryland, and graduated with a double major in dance and media arts and design, with a concentration in integrated advertising and corporate communication. Thrash was chosen as one of two freshmen to attend the 2013 American College Dance Festival (ACDF) and was selected to perform as a substitute the next year, the same year she interned with the College of Visual and Performing Arts Public Relations/Marketing office. While at JMU, she performed in 12 student dance concerts, in New Voices in Dance as a member of the Contemporary Dance Ensemble her sophomore, junior and senior years, and in Dancescapes as a member of the Virginia Repertory Dance Company her junior and senior years.
As a member of Virginia Rep, Thrash performed in shows and worked with high schools and colleges throughout the region. She even got to travel to Martinique to teach classes and "connect with a new culture." Thrash also had the opportunity to study abroad in the London Dance Intensive. While interning with L.A. Dance Project as part of the JMU in LA: The Entertainment Industry program in the summer of 2015, Thrash learned about Jacob's Pillow Dance Festival in Becket, Massachusetts. Thrash decided to apply for one of its 30 internships and spent this past summer as a program intern before being hired for a yearlong contract as assistant to the director.
Published: Monday, May 16, 2016
Last Updated: Wednesday, August 9, 2017