News
Alumnae Named Hamiltonian Fellow
---
Nancy Daly, graphic design '08 alumna, has just been announced as one of six new distinguished 2014 Hamiltonian Fellows in Washington DC. The Hamiltonian fellowship program serves as a steppingstone for emerging visual artists who have finished their academic training and are looking to transition into a professional art career. Inspired by the post-doctoral education model of the sciences, the fellowship program seeks to create a stimulating environment for continued artistic and professional growth.
The 2014 Hamiltonian Fellows were selected from a pool of 97 very promising artists. The External Review Panel, comprised of six acclaimed art professionals, caucused together and evaluated every application based on criteria regarding artistic merit and relevance to today's art world.
Artwork by all six new fellows will be on view in a debut group exhibition opening at Hamiltonian Gallery on Saturday, September 13 from 7-9 pm.
In 2011, Nancy completed her Master of Fine Arts in Photographic and Electronic Media and a Certificate in the College Teaching of Art from the Maryland Institute College of Art (MICA), Baltimore, MD.
Congratulations Nancy!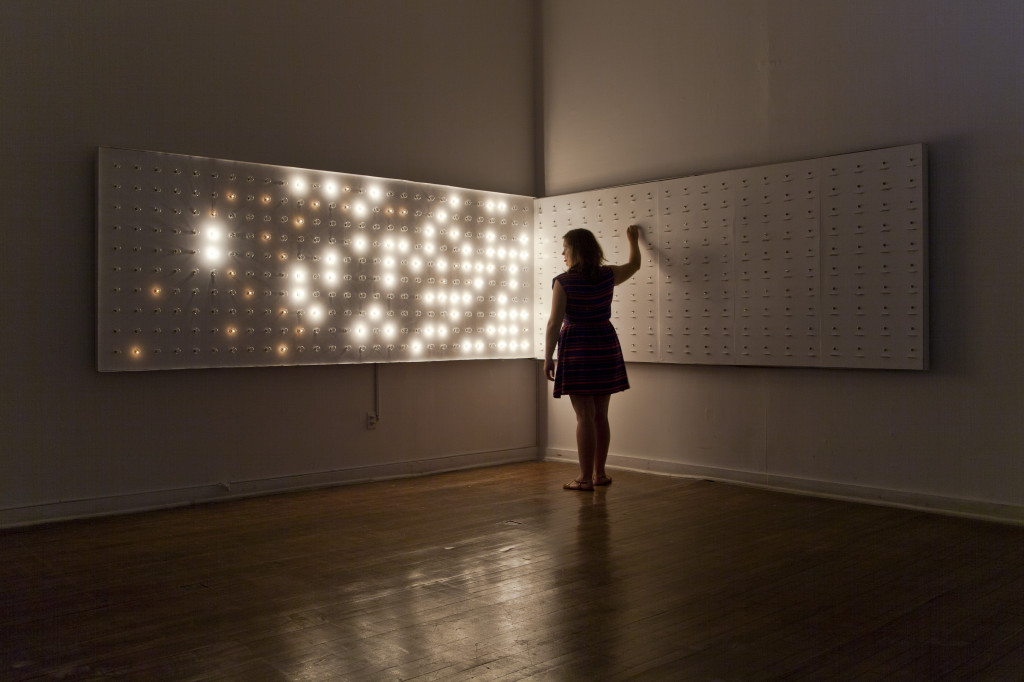 Nancy Daly, Subject to Terms and Condistions, light bulbs, switches, vinyl, switches, wood, 12' x 4' x 4", 2013
Published: Friday, July 25, 2014
Last Updated: Thursday, January 4, 2018