News
Musician
John Dixon ('16)
---
'Our music industry professors want to prepare you for the future. They know that the music industry is always changing and always changing fast—so having the flexibility to intertwine each of the academic tracks gives you the full experience for whatever career path that you want to pursue.'
---
John Dixon ('16)
Major: 
Music
Minor: 
Music Industry
Highlights:
Practices his trumpet two to three and a half hours a day; Sigma Alpha Lambda honors fraternity; Black Student Alliance
president; WXJM radio DJ; sings with JMU Contemporary Gospel Singers.

What's music industry all about?
I still have private trumpet lessons and I'm still required to play in ensembles. I call the music industry program the hybrid program in the School of Music. While we do have to do the music core and electives and take ensembles, a lot of our classes are done with the College of Business—so that's management and marketing and accounting. I think it's cool that we're the hybrid. Other schools have music business degrees where you are just with the music professors, but here we have the best of both worlds, so to speak. I really enjoy learning from people who are from the artistic side and the business side.
Can you describe the JMU music industry program?
The music industry program here is split up in two tracks. One track is more of sound dubbing, LogicPro and multi-tracking. The other track is more management—concert production and promotion, artist management, legal aspects. In the beginning we all have to take the survey course 221, which is taught by Dr. David Cottrell. That class tells you the gist of the field and helps you figure out whether it intrigues you. If you want to pursue a minor or a major in it, then you do a little portfolio that makes you come up with a game plan for what you want to do from there.
What's your profile look like?
I knew automatically that I wanted to be the management side of things. Laws, regulation and contracts are stimulating and interesting to me. Concert production and artist management are more my thing than the other options. I love how JMU music industry is so free form. You can create what you want music industry to be for you. I have friends who are doing sound engineering and audio devices, yet at the same time are taking artist management classes with me.
How good are your professors?
Very good. Our music industry professors want to prepare you for the future. They know that the music industry is always changing and always changing fast—so having the flexibility to intertwine each of the academic tracks gives you the full experience for whatever career path that you want to pursue. I think that is pretty cool.
So music industry's variety appeals to you?
With music industry, once you get the survey and law aspects out of the way, it really branches out. You want to do song writing? You can. History of rock and roll? Cool. Artist management? All right. Eventually, it all funnels into an internship and an entrepreneurial class. So yes, I appreciate the variety and I also love that we are being prepared for real life. 
What are you into performance-wise these days?
For the music industry program, they ask that you have seven to eight credit hours of ensembles, but typically your applied professor urges you to be out there and play more than that. Usually, you're in one large ensemble and then a smaller one if you want to be. My large ensemble is the chamber orchestra. I'm also in jazz ensemble, I play in jazz band and I'm also in the JMU Pep Band.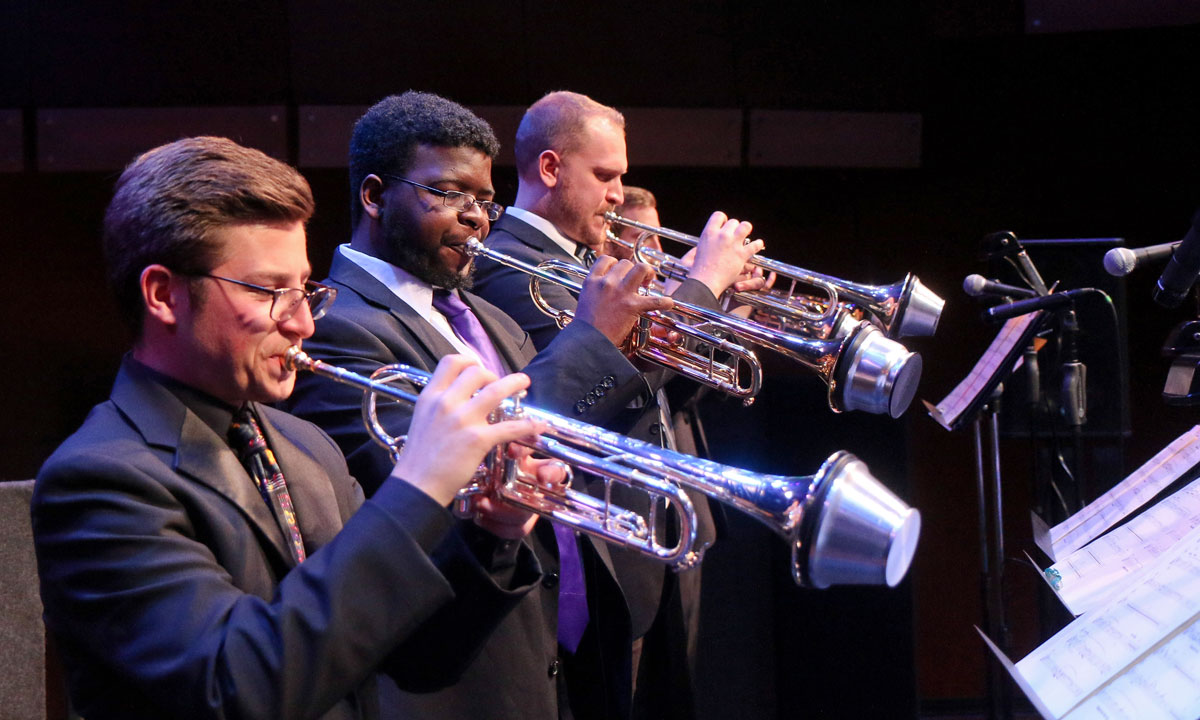 Have you gotten better on your trumpet?
Quite a bit better. They train us so well here. We are better musicians with better ears and much more awareness. It's not just how do I play my horn; it's how do I tune my horn and so many other aspects of musicianship. In high school with the level of knowledge that I had then, I was a pretty darn good player. As my knowledge and skills and ability to pick up on things have advanced through JMU, I just notice more and more about trumpet along the way. The level of detail that I pick at now is completely different and so far advanced compared to the high school me. That just keeps going and going, and it definitely pushes me higher and higher as a trumpet player.
---
Watch: Why JMU School of Music?
---
Published: Wednesday, August 17, 2016
Last Updated: Friday, May 4, 2018