Office of the Provost
JMU secondary education senior plans to help students discover love for math
---
Malia Rivera is a senior in the JMU Secondary Education Department. She has decided to dedicate her life to helping her students discover a love of math. When asked why she decided to become a mathematics teacher, she replied that she struggled with math throughout her primary and middle school experiences. It was not until high school, when she had a teacher that cared about their students' learning and achievement that she began to succeed in math. After struggling through her other math classes, she finally found her passion for math and discovered that a teacher can make all the difference in their students' lives. This sparked her goal to become the best teacher that she can be for her future students. She wants to show her students that she cares about them and believe in them.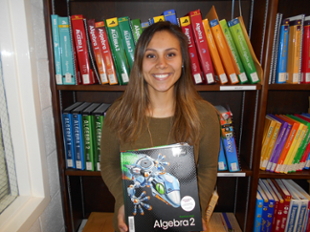 One of Rivera's favorite quotes is "It's okay not to know, but it is not okay not to try." It is never okay to just give up, especially when you may just find your real passion through persistence. She finds this especially true in a mathematics classroom. Many students find that they are not a "math person" and decide that math is not fun. This has changed Rivera's goal to be, not just a great math teacher, but a teacher that makes math fun again. She plans to do this through the resources she has gained through her College of Education classes. Using literacy strategies, technology, and methods activities, she plans to change math from a scary subject to one that students are excited for each and every day.
An interesting part of Rivera's journey as an educator has been the addition of her Exceptional Education (EXED) non-teaching minor. This minor includes taking some Special Education classes at JMU in addition to her mandatory Secondary Education minor credits. This extra minor allows Rivera to better understand her students with exceptionalities. She feels that these classes will help her to reach all of hers students as a teacher, not just the students without exceptionalities.
Kappa Delta Pi (KDP) is the International Honor Society in Education, and Rivera is the president of KDP this year. She enjoys practicing her leadership skills and hopes that being a part of an organization focused on service, friendship, and professional development will allow her to grow as a future educator. 
Published: Thursday, January 12, 2017
Last Updated: Friday, March 3, 2017