Office of the Provost
Heather Carmack: An outstanding graduate-student advisor
---
Alyse Lehrke, Strategic Leadership doctoral student at James Madison University
Dr. Heather Carmack combines her passion for teaching communication with a heart for graduate students.  As a faculty member in the School of Communication Studies, Carmack is the recipient of multiple awards for her work with graduate students, including the Provost's Award for Excellence in Graduate Advising.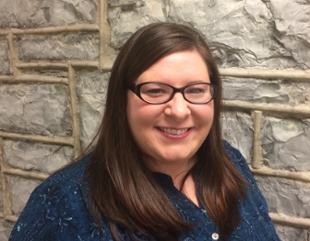 Dr. Carmack's academic path took some turns along the way.  She started her undergraduate career as an accounting major, but her passion for communication soon blossomed. As a member of the competitive speech and debate team, she spent lots of time with the students and faculty of the communication department at Truman State University. She soon changed her major and then earned master's and doctoral degrees in communication at Ohio University, specializing in health communication. While she was a graduate student, she had the opportunity to be a teaching assistant, sparking her interest in teaching and serving students.
Before coming to JMU, Carmack led the graduate communication program at Missouri State University, guiding more than 60 students to completion. She joined JMU's communication department when the Communication and Advocacy program was brand new. Now, she oversees the health communication track for the undergraduate communication major, teaches graduate courses in the Communication & Advocacy graduate program, and serves as a graduate advisor. In her graduate advisor role, she is passionate about helping students reach the finish line. She commented, "I have a sense of fulfillment when I send the graduation paperwork in for a student." Even administrative tasks like graduation paperwork become meaningful because she knows the impact of this accomplishment makes in the lives of her students.
As a thesis advisor, she described her primary job as helping students translate the knowledge and skills they have gained into a finished product. She uses a hands-on approach, tailoring her guidance to the needs of each individual student. She meets regularly with advisees to discuss the progress and challenges of the project then sets realistic deadlines to help them reach milestones. On non-thesis projects, she focuses on finding opportunities for students to pursue their interests.   
Carmack offers five tips for graduate advising:
Know your limits. You can't work with everyone, so setting limits on the number of students and projects you work with is key to excellent advising.
Focus on student interests. A graduate program is an opportunity for students to pursue their interests and achieve important goals. The graduate advisor's job is to be a guide and support along the way.
Coordinate a team effort. As a thesis advisor, the advising relationship includes every member of the committee to ensure the team is working together for the best interest of the student.
Be honest with students. Sometimes a student isn't ready to do what they need to do. Be willing to have the hard conversations and give the student the opportunity to grow.
Love it, or leave it. Working with graduate students is different than undergraduate advising. You have to love working with graduate students and be willing to make a significant investment of your time to help them succeed.
In the end, Carmack says it's all about serving the students. Whether she's teaching or advising, one key question motivates her, "How can I use what I know to help you accomplish your goals?"  
Published: Monday, February 27, 2017
Last Updated: Friday, March 3, 2017