Office of the Provost
JMU brass band in England: Students respond to performing on an international stage
---
Freshman Cassie Coss was home in Spotsylvania, Virginia, over winter break when she received a message from Mr. Kevin Stees, professor of tuba and euphonium at James Madison University and director of the internationally recognized JMU Brass Band. The message: "Do you want to go to England?" It was a call that would change the direction of Coss' musical career. A music industry major and member of the Marching Royal Dukes, Coss understood the importance of the trip and was "insanely excited" that her dream of being in the Brass Band was coming true.
Music industry major Robert Wollenberg was a sophomore at Spotswood High School in Penn Laird, Virginia, when Stees visited his band class to tell them about a new youth brass band he was forming. Stees played for the students music by the Hammonds Saltaire Band (formerly the Yorkshire Building Society Band), and Wollenberg was hooked. "I had never heard anything like it. I knew immediately that I wanted to be a part the group" that would eventually become the Massanutten Youth Brass Band. Now a senior at James Madison, Wollenberg is the principal cornet and longest-serving member of the JMU Brass Band, having started with the band in the fall of 2012.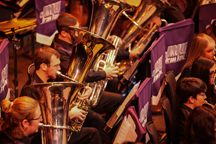 Coss and Wollenberg are two of 32 members of the JMU Brass Band that travelled to Manchester, England, to perform in the 2017 Royal Northern College of Music (RNCM) Brass Band Festival in January. The annual festival draws the top talent in brass bands from around the world; this year marked the first time a band from the United States was invited to play—and Stees, who has been attending the event for years, couldn't turn down the "once-in-a-lifetime" opportunity for the JMU Brass Band.
The JMU Brass Band was featured throughout the entire festival. Playing the first concert was the brass quintet of Wollenberg (cornet), Andrew Wood (cornet), Hunter Payne (tenor horn), Phillip Marion (euphonium) and Kai Smith (tuba). Wollenberg says the performance went "smoothly" because members "instantly blended" when they came together a couple of weeks prior to the trip.
Stees says the highlight of the festival was the band's 90-minute performance in front of an enthusiastic audience of 250 to 300 people. Both Wollenberg and Coss admitted to feeling nervous, but managed to pull it together on stage for the program that consisted of Stephen Bulla's Images for Brass, Philip Spark's Variations on an Enigma, Josef Turrin's Hymn for Diana, Oliver Waespi's The Raid, and the world premiere of Matsuri, written for the Brass Band by JMU composition professor Eric Guinivan.
The Brass Band's time at the festival culminated in a performance with the world's No. 1 brass band, The Cory Band, who played at the Forbes Center in February 2016. While Stees says the JMU Brass Band has played at some of the same events as the Wales-based Cory Band over the years, it was when The Cory Band came to JMU that he got to know musical director Philip Harper. The Cory Band worked with the JMU Brass Band at the Forbes Center, but did not perform on stage together. So, when asked to perform a familiar Sousa march, "The Thunderer," on stage with The Cory Band at the RNCM Brass Band Festival, Stees said "absolutely!" Despite having to acquaint themselves with a different arrangement of the music only hours before the concert, the Brass Band "pulled it off," says Wollenberg, who along with Coss thought that performing with The Cory Band was "absolutely incredible."
Published: Thursday, February 16, 2017
Last Updated: Friday, March 3, 2017