Office of the Provost
The OIP and community engagement
---
As concerns grow about potential changes in the U.S. immigration rules and their impact on our greater JMU community, the role of International Student and Scholar Services (ISSS) in supporting community engagement becomes all the more important.  The Office of International Programs – soon to become the Center for Global Engagement – has a long history of sustaining our international students and scholars and reaching out to include the surrounding population as well.
The LINK Program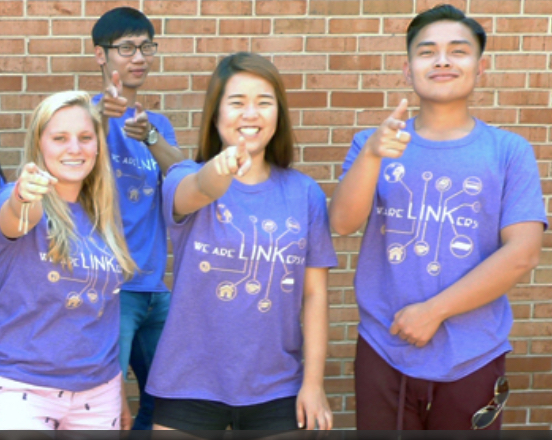 Leaders for International Networking & Knowledge – LINKers – are student assistants who are committed to helping JMU's globally-minded community, assisting with international student recruitment and serving as peer mentors.
Some LINKer projects:
Creation of a handout to highlight JMU's features and benefits with the hope of convincing newly admitted international students to choose JMU
Design of a video to bring a more welcoming and personal message to new international students along with their additional pre-departure steps
Coordination and implementation of a new international student weekend visit to JMU
The LIFE Program
Leaders in International Friendship Exchange (LIFE) is a program that puts JMU international students together with local friendship families who are interested in making such a connection.  International students choose to participate in LIFE in order to learn more about American culture and customs, improve conversational English skills, and develop friendships with individuals in the local community. Friendship families participate in the program in order to learn about a new culture, provide a comfortable environment to students far away from home, and promote a sense of global understanding.
In response to the more immediate issues, ISSS has posted President Alger's letter concerning the Executive Order of January 27th.  https://www.jmu.edu/news/global/30-wh-executive-order-on-immigration.shtml
The mission of ISSS aligns completely with President Alger's words: "Diversity of thought, opinion, experience and culture adds tremendous value to the university because our differences enlighten us and bind us together.  Regardless of one's country of origin, all are welcome at James Madison University."  The ISSS team, in collaboration with Frank Ameka Media, created the You Are Welcome Here video to extend a welcome to students from around the world. Getting that message out is more urgent than ever.
In addition, the OIP has developed a webpage to address concerns and provide updated information on the topic.  It underscores JMU's support of our international community, gives an overview of the Executive Order in question, offers general tips to international students and faculty, supplies a range of frequently asked questions, explains court challenges to the Executive Order, and provides links for additional information. All this material is open and available to the general public.
Earlier in the semester, in advance of the Executive Order, Associate Executive Director Delo Blough, herself an attorney with expertise in immigration law, presented an information session on campus on the Deferred Action for Childhood Arrivals (DACA) program. With a mixed audience – affected students, public school teachers, guidance counselors, and supporters wishing to learn more about the DACA program – she discussed the current status of the program, what DACA does and does not provide, the potential future of DACA, and suggestions for what DACA beneficiaries should do now.  She also mentioned the letter of support sent to (then) President-elect Trump that President Alger had signed, along with more than 500 other university presidents, and noted other actions that universities/institutions across the country are taking.  Audience members were welcome to ask questions anonymously.  The DACA informational webpage she developed to complement that meeting is still available and contains a wealth of helpful information. 
With even greater worry and uncertainty in the air, Blough is taking a broader conversation out into the Harrisonburg community.  In mid-February, she will be collaborating with other professionals, who will bring to this community session their expertise on refugee resettlement, public schools, legal rights, and implications of overlapping federal, state, and local laws.
Published: Tuesday, February 14, 2017
Last Updated: Tuesday, June 12, 2018