Office of the Provost
JMU middle school education graduate student finds inspiration in students
---
Laura Bionde is a fifth year graduate student in the JMU College of Education Master of Arts in Teaching program. She is in her final semester here at JMU, after graduating with her Bachelor's Degree in Interdisciplinary Liberal Studies in 2016. Laura will be certified to teach both social studies and science in the middle level grades, 6-8. When asked about her decision to focus on teaching middle school specifically, versus a certification in secondary education (6-12), Laura said, "I think a lot of times people end up teaching middle school, when their main goal was high school or something else. And this causes students to miss out and not have the positive experiences I had. So I wanted to make sure that I would be able to teach to this specific group of kids".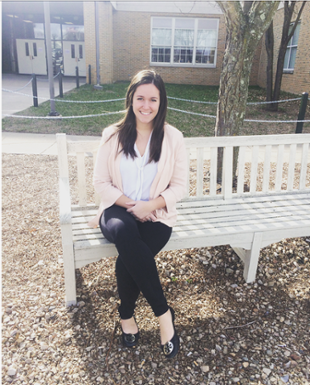 Laura was inspired by those teachers she had in middle school that helped her through the transitional time, as well as her mom, who teaches high school physical education. Laura's mom left a large corporate company position to teach, and says, "if you love what you do, you won't work a day in your life, and she hasn't been 'working' in years". While Laura's own experience inspired her decision to focus on middle education, her recent experiences in the classroom have inspired her love for the job. During her practicum and student teaching, Laura realized "Middle schoolers are constantly teaching me new things, and I think that is a pretty amazing experience to have, to learn from your students every day".
Laura's favorite quote, and an important part of her philosophy of education comes from Kid President. He says, "Teachers see things. They see when you're running down the hall. They see when you're passing notes. But they also see the person that we can all become someday". Laura's dream is to help middle school students thrive in their futures. She says, "You can't decide to teach middle school just because you love your content area or because you love kids. You really have to go into it, not just loving the age group and content, but willing to adapt and understand their wants and needs, while still being able to have fun and teach them to be good people".
Throughout her time spent at JMU, Laura has experienced a study abroad intercultural practicum in Rome, and is currently a Graduate Assistant in the Educational Foundations and Exceptionalities Department. She hopes to teach next year in her hometown in northern NJ. When asked which of her content areas she prefers, she said she loves both, but enjoys the content for 7th grade science and social studies. 
Published: Monday, February 13, 2017
Last Updated: Friday, March 3, 2017