Office of the Provost
Finding tools for social justice
---
By Brett Seekford ('16)
Every year, James Madison University holds International Week to provide a venue for international students and faculty to share insights about their backgrounds and cultures. Held September 19-23, this year's theme was "Documenting Our Journeys." This theme sought to highlight the personal experiences of members of the campus community who have lived or traveled abroad. On the first day of the event, the social work department held a forum for student and faculty participants to present on issues of social justice specific to regions where they had traveled.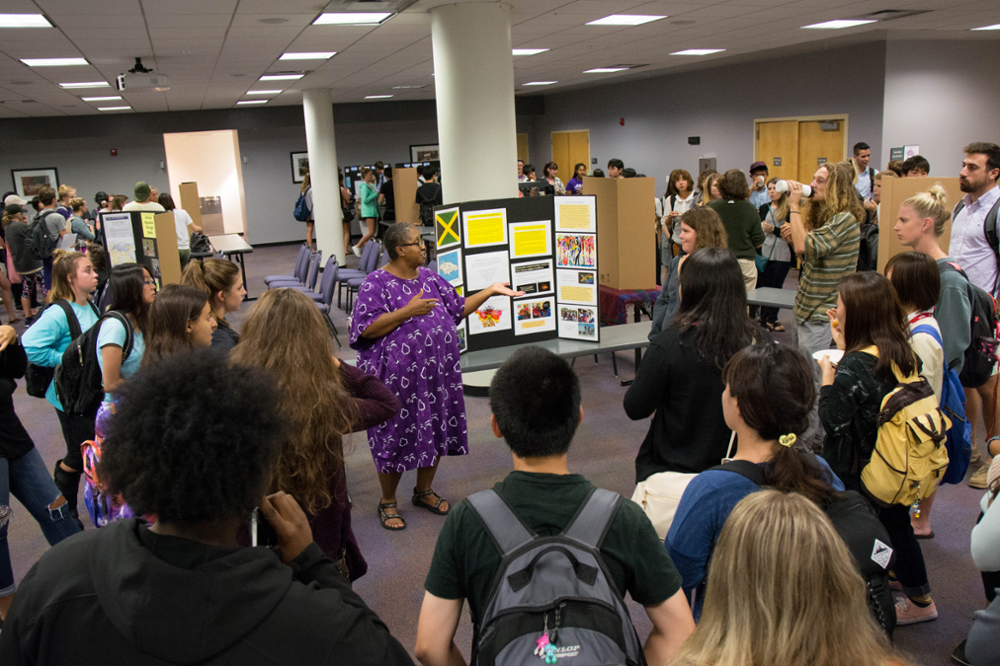 In preparation for the forum, professor B. J. Bryson assembled a group of faculty and students with the necessary backgrounds to share their experiences. The group of presenters addressed issues in countries such as Ghana, Argentina and El Salvador. The forum was called "Around the World: A Journey in Social Justice."
"The primary goal was to challenge student thinking about social justice from the perspectives of people who lived in these other locations," Bryson said. "We often view social justice from a privileged space in the United States when in reality many areas of the world are not safe; oftentimes community members' lives are in danger or in limbo, as we tried to show through the event's posters."
The "Around the World" presentations were well-received, with presenters providing information on topics ranging from environmental degradation in the Dominican Republic to the prevalence of mental illness among LGBTQ communities in Jamaica.
Social work professor Cindy Hunter spent last spring on sabbatical in El Salvador where she previously lived for five years. Through her studies in the country, she came to realize the dangers associated with the rise of gangs in the region which leads many people to migrate north for safety. She presented these findings to reveal the social justice issues surrounding current immigration policy in the United States.
"One cause for the huge exodus from El Salvador and other Central American countries is the violence occurring. If we send people back to the country, the violence will just be exacerbated," Hunter explained. "When we craft immigration policy, we have to consider what we're causing to happen in the world. What are the repercussions of established policy?"
Senior social work major Lela Thompson, on the other hand, focused the audience's attention on the access to education among citizens of Ghana. Many Ghanaian children are unable to attend school due to financial constraints or occupational obligations. Thompson relayed her experiences working with a charity in the country to teach students basic skills in math, reading and writing, effectively showing audience members an avenue for achieving a more equitable society.
"A big part of social work is working with and for the community. My experience in Ghana gave me an example of a program that was positively affecting a particular community," she said.
The forum benefited both the presenters and audience members. "Talking to peers who effect positive change through their global work places other students in a realm of possibility where they can conceive of tools to effect change. Each student in that room had a constellation of experiences that could be enhanced by the presentations," said Hunter.
"Discussing global social justice issues challenges our comfort and privilege," Bryson added. "The social work department encourages international opportunities for students to grow and learn about the world, and this event showed how students came to see themselves as agents of change."
Published: Monday, January 30, 2017
Last Updated: Tuesday, October 31, 2017