Office of the Provost
Dr. Besi Brillian Muhonja: Award-winning faculty member and prolific scholar
---
Dr. Besi Brillian Muhonja is an associate professor in the Department of English and has taught courses in Africana studies and women's and gender studies at James Madison University. Those on campus may recognize her by the bright kikoys that she often wears. The kikoys are from Muhonja's native Kenya, where she was raised. Muhonja holds a Ph.D. in philosophy, interpretation and culture. Her research, publication and teaching areas of interest include critical African studies; decolonial and indigenous knowledges; Africana, transnational and subaltern feminisms; queer African studies; and motherhood studies.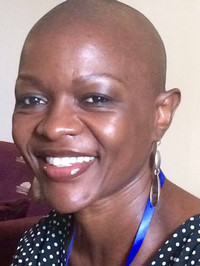 Muhonja's scholarship seeks to define new theoretical and creative approaches, as well as languages, for engaging and conceptualizing the herstories and lived experiences of Africana women. Dr. Muhonja is extensively published in reputable peer-reviewed academic journals as well as peer-reviewed anthologies. One of her articles on reproductive and abortion rights, Up and Down Purity, won the 2012 feminist scholarship award sponsored by the JMU women's and gender studies program.
Muhonja has also served as editor of three issues for the academic journals West Africa Review and JENdA: A Journal of Culture and African Women Studies. Muhonja co-edited the volume Mothers and Sons: Centering Mother Knowledge published in 2016, and has two forthcoming books (2017): Performing Girlhood and Womanhood: Rituals of Kenya's Twenty-First Century Middle Class, and Turn Down the Volume on Silence. She is the series editor of Critical African Studies in Gender and Sexuality with Lexington Books, and serves on the Board for the Michigan State University Press Ruth Simms Hamilton African Diaspora Series.
At JMU, Muhonja is involved in numerous diversity initiatives and committees, received the 2012 Faculty Diversity Enhancement Award, and established the Annual Interdisciplinary Africana Studies Conference. She is a member of JMU's Madison Caucus for Gender Equality, African, Latino, Asian and Native American (ALANA) network, and Sisters in Session, the JMU network of female Africana faculty and administrators.
This fall (2016), Muhonja is teaching the courses Advanced Studies in African Literature: Gender and Sexuality in the African Novel and Theory and Performance Studies, and she is also advising the JMU Model African Union team. She will be on educational leave during the spring semester working on her next book project which is on the post-independence women's movement in Kenya.
Published: Thursday, October 20, 2016
Last Updated: Thursday, January 4, 2018