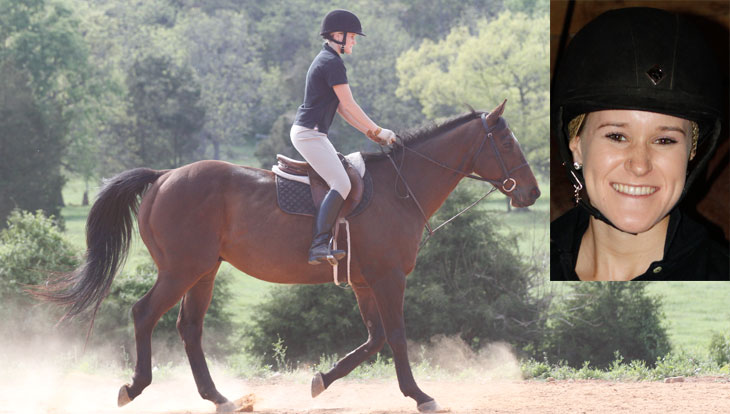 Student's Quick Grasp of Horse Riding Leads to National Competition
By Paula Polglase, JMU Public Affairs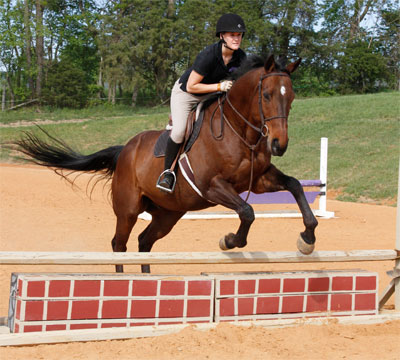 Beckah Jarzombek in training at Seventh Heaven Farm at Mauzy.
It didn't take long for James Madison University sophomore Bekah Jarzombek to learn some of the finer points of competing in horse shows. The Chesapeake native, who took her first horse riding lesson 18 months ago, represented the JMU Equestrian Club May 9-10 at the International Horse Show Association's national competition in Lexington, Ky.
"I have had to learn a lot very quickly because many of these girls have been riding since they were six or seven years old," said Jarzombek, who had ridden casually before coming to JMU but never had any formal training.
Jarzombek competed in individual walk-trot equitation on the flat. The class features competitors who enter a ring at the same time, walk, trot, change direction and finish in the middle of the ring. Riders do not bring their own horses to IHSA shows, but ride horses provided by the host school. "It is nerve-wracking because you don't know the horse you will ride until five seconds before you ride it," said Jarzombek.
Coach Bobby Jones, owner and trainer of Seventh Heaven Farm in Mauzy, where the JMU Equestrian Club trains, advised Jarzombek "to focus on the experience, not the pressure of being there." Since horses pick up on the nerves of the rider, Jones said, Jarzombek will have to stay focused and calm.
JMU's Equestrian Club participates in riding styles that focus on a rider's body position on the horse. Points are given or taken away based on a rider's posture and ability to mesh with the horse.
Throughout the IHSA show season, JMU riders compete against some schools that have school-funded varsity programs. Jarzombek thinks JMU's non-varsity status for the equestrian team accelerated her opportunity to compete. The IHSA requires teams to register riders at every level from beginner through open, or most advanced. Allison Smyrl, Equestrian Club president said, "We are really lucky to have her, because it is often hard to fill that (beginner) position since the rider needs to have less than 24 weeks of instruction before they first compete in an IHSA show at that level. She definitely has a natural talent with riding and was able to pick up on it quickly."
JMU participated in the regional show against 12 other schools. The top three riders in each level advanced to zones. The IHSA Zone 4 competition took place April 11 and consisted of 47 schools from three regions. The top two riders in each level at zones advanced to the IHSA Nationals. Jarzombek was the only JMU rider to make it to nationals.
Jarzombek, who now rides two to three days a week, said she has learned a lot about horses and about herself in the short time she has been involved with the JMU club, which caught her attention at JMU's student organization night September of her freshman year. "Riding challenges you physically, mentally and emotionally," she said. "I have learned to overcome fear and apply that to other aspects of my life."
Jarzombek remains excited about riding for JMU. She will move beyond the beginner class in competition next year and she will serve as equestrian club president for 2010-11.
"Bekah making it to (IHSA) nationals was a great accomplishment for her and our team. She has worked really hard at practices and put in a lot of effort to get to where she is now," said Smyrl.
Published May 7, 2010