Business
Chapman exemplifies resilience
Purple Heart recipient rebounds, excels in JMU classrooms
---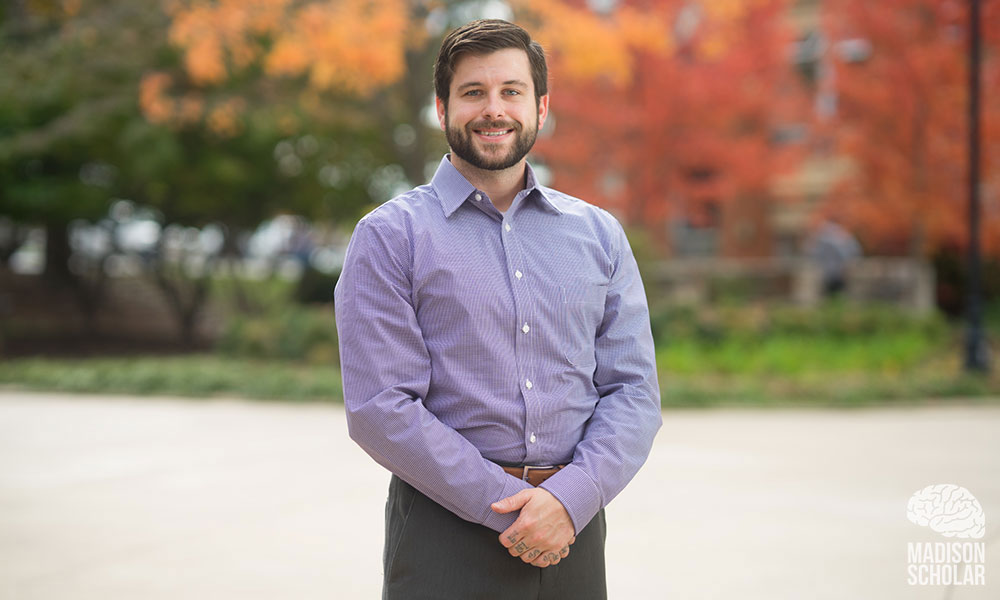 SUMMARY: Marine Corps veteran William Chapman overcame injuries and other obstacles to become an excellent student in the College of Business.
---
The first injuries, to his legs, were inflicted by gunfire from AK-47 assault rifles.
As William Chapman took cover, he triggered an improvised explosive device that caused the rest of the damage: broken bones, a ruptured spleen and a severe concussion.
Now a junior accounting major, the injuries Chapman sustained in Afghanistan, while serving in the Marine Corps, required a full year of recovery and ended his dream of being selected for a special operations unit. Without a spleen, he was no longer eligible to serve with such a unit.
"Everything I envisioned myself doing was to get to special operations and that was taken away," Chapman said. "I experienced a loss of identity and I didn't know what I wanted to do."
In 2012, four years after enlisting in the Marine Corps Reserve, Chapman returned to civilian life and started working as a trailer mechanic. Although he enjoyed the work, he felt he needed to do something else for personal growth and applied to JMU in spring 2014.
A Purple Heart recipient, Chapman credits his family – he comes from a long line of military veterans – and his military training for his success as a student. "It does not matter how big, accomplished or strong you are. If you don't have that desire to be there, it won't pan out for you in the long run," he said.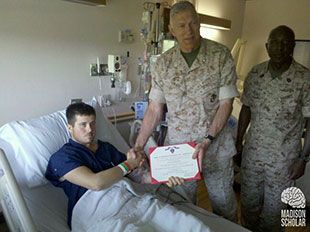 William Chapman receives his Purple Heart from General Conway, the Commandant of the Marine Corps and Sergeant Major Kent, in Germany.
Chapman discovered a passion for academic work and made the president's list in spring 2017. He also received the Medal of Inspiration from the American Institute of CPAs. "Will Chapman is a prime example of why the Medal of Inspiration Award exists," said Yvonne Hinson, AICPA Senior Director - Academic in Residence. "In the face of great adversity, he has continued to persevere and meet the goals he set out to accomplish. He has used each obstacle as a building block to propel himself forward to become a successful student and officer of Beta Alpha Psi."
Outside the classroom, Chapman has volunteered for the Skyline Literacy program, where he helped immigrants study for the naturalization test. He also serves on the board for the Office of Student Accountability and Restorative Practices; as an executive member of Beta Alpha Psi, an international honor organization for accounting, finance and information systems; and tutors fellow students in accounting.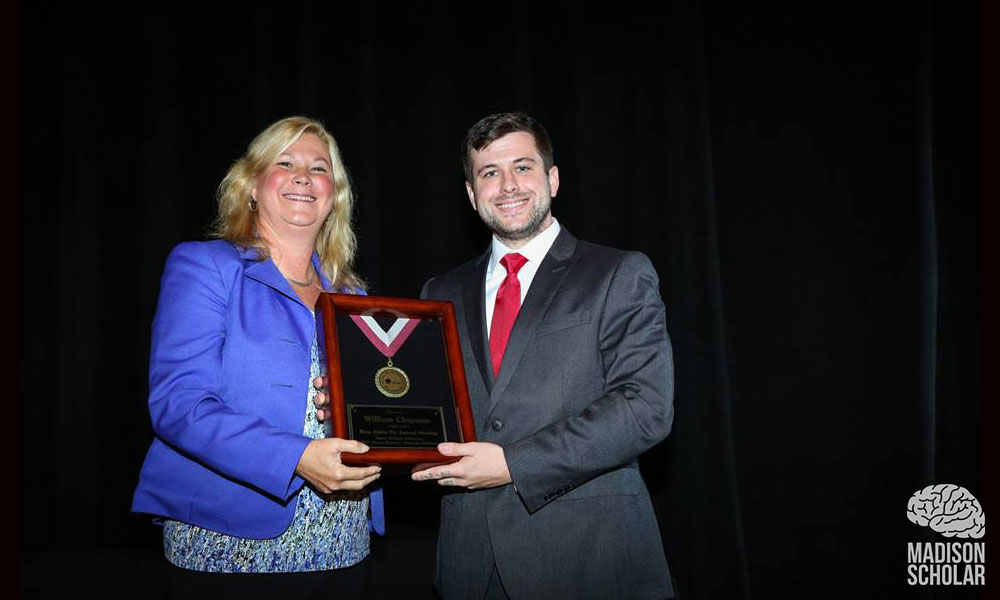 William Chapman receives the Medal of Inspiration from Yvonne Hinson of American Institute of CPAs in Anaheim, California.
"It is an honor to be recognized at the national level from academia," Chapman said. The years 2012 to 2017 "were filled with obstacles, but perseverance and determination means good things come at the end. Being at JMU and a part of BAP gave me an avenue to show others it doesn't matter what you are struggling with, you can get through it. BAP was the best academic choice I made as it prepared me for real-world skills. JMU gave me a sense of community and diverse experiences."
Chapman is scheduled to graduate in December 2018 with a bachelor's degree in accounting and is hoping to land an internship with a major accounting firm.

Published: Monday, November 6, 2017
Last Updated: Saturday, November 11, 2017