Business
Future entrepreneurs hitting stride
Student-led ventures gain traction in summer accelerator
---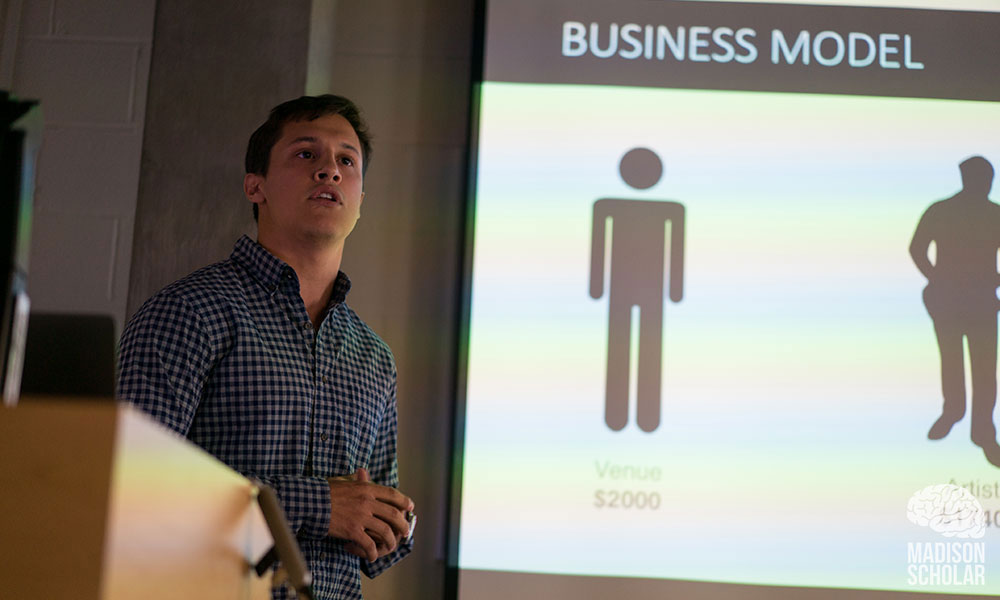 SUMMARY: An eight-week accelerator designed to give budding student-created startups a boost, all nine ventures that participated in June and July plan to continue their efforts.
---
The entrepreneurial spirit is thriving at JMU and there's no sign of a let-up, even as the first iteration of a Venture Creation Fellowship came to a close.
An eight-week accelerator designed to give budding student-created startups a boost, all nine ventures that participated in June and July plan to continue their efforts.
"In my experience, at Yale for example, was maybe about half the ventures shut down after eight weeks and they either put it on the back burner or even quit. We don't have a single student doing that. Every single one of them is continuing to work on their venture," said Patrick McQuown, who came to JMU in January to lead the Center for Entrepreneurship in the College of Business.
McQuown, who also directed the summer accelerator, said he hoped to get five applications for the program when he advertised it in the spring and ended up with 19. The nine ventures chosen to participate received mentorship from McQuown and other serial entrepreneurs as well as $4,000 stipends for each student and, in some cases, additional funding to cover expenses.
A major goal of the accelerator is to help the startups gain traction, or in some cases, strengthen their traction. "Traction either is people paying you for your goods and services, or in the case of an application, getting users," McQuown said. "I'm happy to report that with our nine ventures, six of them have traction, five with revenue and one with users. And that, frankly, puts us in a different league."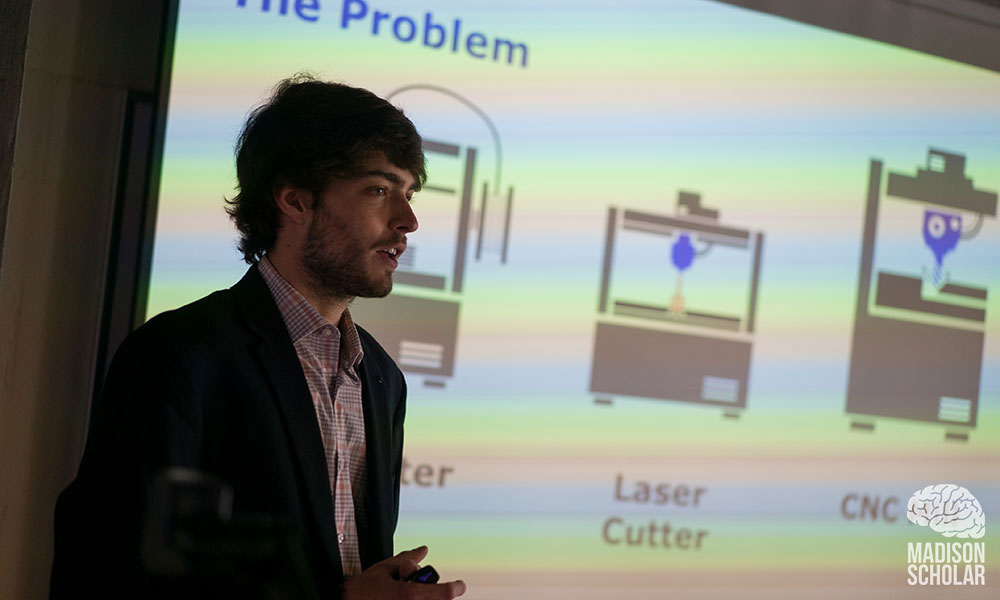 "Patrick is fantastic. He's been a great mentor," said Connor Feroce, a May intelligence analysis graduate who co-founded a company called "beatgig," an online platform that helps musicians and music venues get together to schedule shows. Feroce was one of three students to pitch their ventures Thursday, July 27in a sneak peak of a program that will feature all nine ventures this fall. Each pitch lasted five minutes and was geared to interest investors. The audience included JMU President Jonathan Alger, JMU First Lady Mary Ann Alger and College of Business Dean Mary Gowan.
Feroce already had the attention of another audience member, Bryan Bostic, a 1993 JMU alumnus and serial entrepreneur who has been serving as an entrepreneur in residence. The two met about a year ago. Following Feroce's presentation Thursday, Bostic said he was ready to offer more financial support and also connect Feroce to others in the music industry.
"I have gotten to know Connor over the past year and have watched the growth of this company and frankly, the growth of the team, which is, at these early stage investments, the most important thing," Bostic said. "They have shown a very strong propensity to listen, to pivot where necessary, to be open-minded about mentors and council."
After launching beatgig in 2016, the business booked nearly 100 shows at colleges in the Mid-Atlantic region and handled more than $50,000 in show volume, Feroce said. "It's an outdated industry. You see these other industries where technology platforms have arrived and become successful. It's basically inevitable this technology is going to happen. It's just a matter of who's going to do it. I'm confident we'll be the first one, so that's pretty exciting."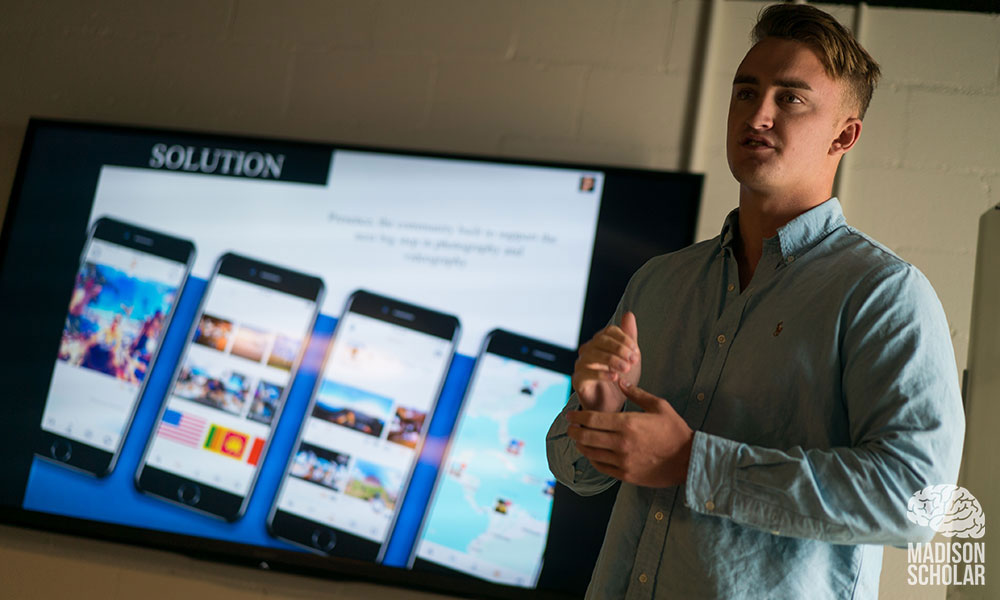 The other presenters Thursday were Hydra, a team that is building a "micro factory" that will do large-scale 3D printing projects and also offer pick-and-place and CNC (computer numerical control) functions; and Presence, a social media app that allows users to upload, share, pin and view 360 media. All three ventures swept a pitching contest this summer against student start-ups at Georgetown University.
McQuown said the contest is going to become an annual event called the "Bulldog Cup," since each school's mascot is a bulldog.  Similar competitions are being scheduled at Princeton and at the University of Pennsylvania's Wharton School of Business.
Applications for the second cohort of Venture Creation Fellows will be available this fall, McQuown said. The fellowship is open to students in any discipline.
That's an approach Bostic likes. "Entrepreneurship does not only come out of the College of Business, nor do great ideas, nor do great people. They're all over," he said.

Published: Monday, July 31, 2017
Last Updated: Tuesday, August 1, 2017