Nation and World
Ethics and engagement
---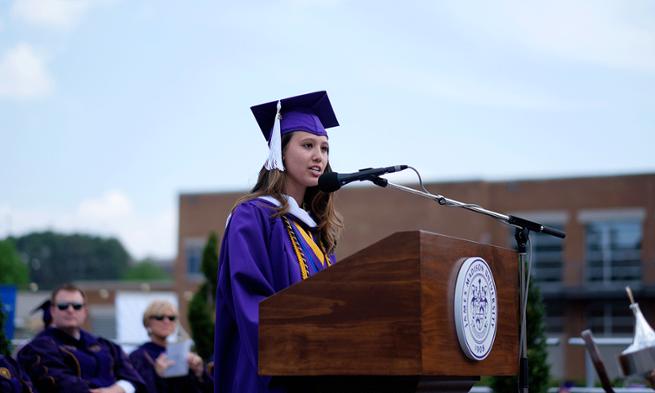 SUMMARY: Rosemary Girard, the Student Speaker for the 2015 University Commencement Ceremony, graduated summa cum laude, Phi Beta Kappa, was a JMU Honors student and was the Advocacy Studies Outstanding Student of the Year. A double major in communication studies and writing, rhetoric and technical communication, Girard interned in JMU's Office of Communications and Marketing, worked in media relations on the fringes of Capitol Hill, and spent two summers interning at the Library of Congress. She begins a master's degree in public relations and corporate communications at Georgetown University this fall. Her commencement speech sums up the Madison Experience.
---
Good afternoon President Alger, Board of Visitors, friends, family, the James Madison University community and the Class of 2015.
We are here today, of course, to celebrate each of our individual accomplishments. But I think we'd be missing a key component of the JMU degree if we did not also celebrate the JMU experience itself.
JMU wasn't founded until 1908, but the groundwork for our university was laid long before. It was laid in 1751 when James Madison, our namesake, was born, and his ideas about engagement and civic discourse began to form. And it was laid in 1787, when Madison and our founding fathers were drafting and debating about the Constitution—although at JMU, 1787 resonates more with FrOGs in yellow t-shirts and bright-eyed first years being enveloped by their new home.
'JMU students are different. We're graduating not just with a degree, but with an experience, a mindset, that has made ethics and engagement a critical part of each of us.'
These dates would later be etched into the foundational values of JMU, a national model for the engaged university—a university that lives out the ideals of James Madison while also looking toward the future with students who actively want to Be The Change.
We've seen it in JMU's commitment to engaged learning, where our professors' office doors are open to students far more than they probably have time for. Where it's near impossible to come by a JMU Duke who hasn't studied abroad, completed an internship, performed undergraduate research, or participated in a capstone or service learning course.
We've seen it in JMU's emphasis on civic engagement, where students care about democratic affairs, they care about change, they have a steadfast drive to contribute to the common good, and they care about achieving all this through respectful and meaningful dialogue. That's James Madison—whose skills in debate shaped our nation. And that's James Madison University—where I have consistently seen students fight for change, fight for something different, and, most importantly, fight for what's right.
And third, we've seen it in JMU's engagement with the community, where JMU students realize that part of the college experience—part of learning, even—is being a productive and helpful member of the community. That's why JMU has one of the largest Alternative Break Programs in the country. And that's why each spring, I see students clear their schedules with eagerness to participate in the Big Event and Relay for Life.
Dukes, if there's one lesson to glean from all of that, it's that we are lucky. I know that James Madison would be proud of this university. Because for all of those reasons I listed, JMU students are different. We're graduating not just with a degree, but with an experience, a mindset, that has made ethics and engagement a critical part of each of us.
We're all happy to celebrate the memories we've made in four short years—the friends we sat with for two hours at E-hall, the roommates we couldn't wait to see after a hard day of studying, the professors who pushed us to think outside the box.
And, today, we're also here to celebrate all of our hard work. Our late nights in the library, breakthroughs in research, tirelessly working on papers we couldn't wait to turn in.
But here's the thing, Dukes: That was the easy part.
In fact, if there's one thing we can take away from Madison and this university it's that education shouldn't make you feel omniscient, done, or complete—it should humble you. In addition to becoming experts in chemistry or political science, I hope that you've also become experts in asking questions, in admitting when you're not sure, and then seeking out the answers.
There is still so much we don't know. Despite the fact that we're all here today to honor the completion of a degree of higher education, we are here to celebrate commencement—a new beginning, as it's called—and I hope that, for all of you, this is the beginning of a commitment to lifelong learning.
And there's still so much to do. So, congratulations, Class of 2015. Let's all be solutions, let's all be engaged, let's all Be The Change. That's part of James Madison University, and now it's a part of all of us.
Published: Wednesday, May 13, 2015
Last Updated: Wednesday, November 29, 2017