Business
JMU Information Security MBA ranked No. 11 by Princeton Review
---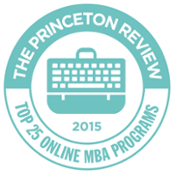 James Madison University is ranked No. 11 on The Princeton Review's Top 25 Online MBA Programs list for 2015. The educational services company released its first ranking of business schools offering the best online master of business administration programs on May 12.
According to The Princeton Review, rankings were based on 2014 surveys of 80 business schools offering online MBAs (at which 75 percent or more of their program was online), plus surveys of nearly 2,000 students enrolled in the programs. Information from surveys of graduates of the online MBA programs was also used.
In addition to the JMU College of Business' online Information Security MBA, JMU offers the Innovation MBA and will begin offering the online Executive Leadership MBA in fall 2015.
For more information about JMU's MBA programs, check https://jmu.edu/cob/graduate/index.shtml.
A complete listing of the Top 25 schools ranked by The Princeton Review is available at http://www.princetonreview.com/online-mba.
# # #
May 12, 2015
Published: Tuesday, May 12, 2015
Last Updated: Wednesday, November 29, 2017